Tourists opening wallets for travel upgrades abroad
Chinese tourists are spending more money on upgraded travel experiences when they go abroad, and more people are willing to take in-depth, individualized and customized trips, according to a report released this week by the China Tourism Academy and Ctrip.com travel agency.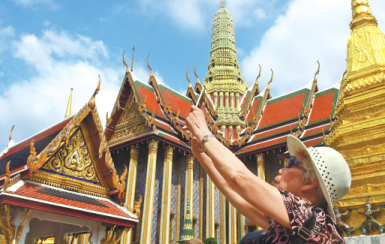 A tourist enjoys the sights in Bangkok, Thailand. More Chinese travelers prefer individualized travel. [China Daily] 
"The middle class, who are the backbone of the outbound tourism market in China, are more willing to slow down their travel pace and enjoy in-depth travel experiences, no matter if it is in accommodations, eating, shopping or cultural consumption," said Dai Bin, director of the China Tourism Academy.
"More people prefer independent trips, instead of traveling with groups, and those who spend a lot of money shopping account for a smaller portion of Chinese tourists."
In the first half of the year, 42 percent of Chinese tourists chose to travel with groups and 58 percent took individualized trips, Ctrip said. The shift has coincided with the proliferation of travel websites and mobile applications to find travel information and book trips.
Take Lily Min, 26, a Hong Kong­based lawyer who traveled to Japan last month with a friend.
"I prefer to travel on individualized trips than go with groups because I will have a more flexible schedule and change it as needed," she said. "Besides, I like to plan the whole trip on my own, including booking hotels, choosing places to dine and exploring destinations."
Dai said the outbound tourism market in China has entered a steady growth period with low-to-medium growth rate.
During the first six months of the year, 62.03 million Chinese traveled abroad, a year-on-year increase of 5 percent, the report said.
Currently, 120 million Chinese have private passports, meaning 90 percent of passport holders have not traveled abroad yet, indicating a significant potential for outbound tourism.
As of July 11, 65 countries and regions had introduced favorable visa-free or visa-on-arrival polices to attract Chinese tourists, according to the Ministry of Foreign Affairs.
Thailand was the most popular destination for Chinese tourists in the first six months of 2017, followed by Japan and Singapore. The number of Chinese tourists who visited South Korea dropped 41 percent year-on-year.
The total of Chinese tourists who traveled to Europe surged 65 percent, and 5.5 million Chinese are forecast to travel to Europe this year, the report said.
Chinese people from smaller cities are traveling abroad more frequently thanks to relaxed visa policies and more direct flights to foreign destinations, the report said.