The 'home Of Generals' Continues Its Military March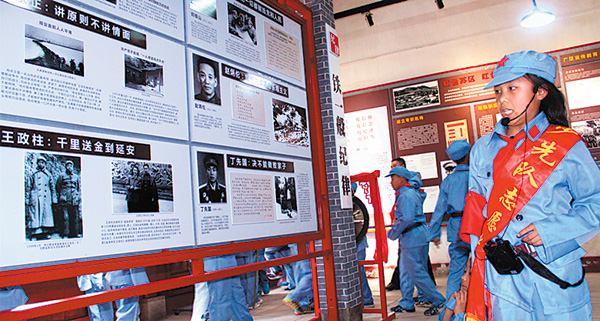 A volunteer at the education base in Chengmagang, Hubei province, discusses an exhibit related to former military figures. Photos provided To China Daily

A small township in Central China is renowned as the birthplace of many high-ranking PLA officers, as Hou Liqiang and Zhou Lihua report from Chengmagang, Hubei province.
There are more than 40,000 townships in China, but few are as famous as Chengmagang, Hubei province, known as the hometown of generals and revolutionary martyrs.
In 1955, in the most important round of promotions after the founding of the People's Republic of China, 1,042 military officers were promoted to the rank of general, and 26 of them were born in Chengmagang. Meanwhile, more than 20,000 people from the township were killed during the revolutionary period from 1924 to 1949, with 5,938 officially registered as martyrs.
The revolution ended in 1949, but since then, joining the People's Liberation Army has become a tradition for Chengmagang natives.
"Now, in the township, one in every seven people are serving or have served in the PLA," said Tao Xiaowu, a local government official in charge of military recruitment.
"It's not unusual to meet people who followed in their fathers' footsteps and joined the PLA. More than 100 families in the township can boast several generations of soldiers."
Military family
Zheng Zunyuan's family has four generations of PLA soldiers. Zheng's grandfather, who was born in 1895, began collecting information for the Communist Party of China in 1926. He joined the Red Army, the PLA's predecessor, in 1930, and was executed six years later as a prisoner of the Nationalists after being betrayed by an informer.
Zheng's father joined the PLA in 1949 at age 18. He left the Army in 1955, and died last year.
"My father ended up as a manual laborer after my grandfather died. His clothes were in poor condition and he was forced to sleep near the cooking range of a street confectionery stall because it gave off a little heat as it cooled after being used all day. The soles of his shoes were almost worn away," Zheng said.
"My father didn't talk much about his experiences in the PLA, and only told us a little during his last few years. But every time we watched the movie Battle on Shangganling Mountain, which told the story of a battle during the Korean War (1950-1953), he would burst into tears."
Zheng, 54, only discovered the full story of his father's exploits when he checked government records. The veteran was one of the PLA solders who liberated Hainan province in 1950, and his unit was one of the first to volunteer to fight in the Korean War in the same year.
Duty calls
Zheng has five siblings. Although the family's life was hard, his father never asked for government support and always supported government policy.
"My father believed that it was his duty to join the Army and serve the country. No matter what he did, it was always his duty. He never complained, no matter what difficulties he encountered," Zheng said.
Zheng joined the PLA in late 1982 and served for four years. He now runs a printing store in downtown Macheng, the city that administers Chengmagang.
Spurred by their father's example, Zheng and his three brothers were keen to join the PLA, but only Zheng passed the medical. In turn, his Army service inspired his son, who enlisted in 2013, after graduating from university.
"My son was deeply influenced by our family's military culture. During our leisure hours, we watched a lot of movies, TV series and other programs about war. We watched Battle on Shangganling Mountain more than twice a year," he said.
Zheng said his father led a simple life after he retired.
Though his family often suggested trips around China, the senior always refused because of the cost of travel. With the exception of one trip, he stayed in his hometown until his death from laryngeal cancer, according to Zheng Zunyuan's younger brother Zheng Zunsheng.
After his condition had been diagnosed, the veteran made a trip to Zhenghzhou, Henan province, where he attended a reunion of Chinese volunteers who fought in Korea.
"I never saw my father so happy. He didn't speak much at home, but when he went to the reunion, he spoke with the other veterans and sang Korean songs," Zheng Zunsheng recalled.
The old man also expressed a wish to visit Dandong, Liaoning province, where the Yalu River forms the border between China and the Democratic People's Republic of Korea, to take a last look at the country where he once fought. However, he died before he could make the trip.
Zheng Zunsheng, 46, said he is sad that medical problems prevented him from serving in the PLA, but he hopes his 9-year-old daughter will enlist.
"I told her she should study hard and make an effort to join the Army. Not only to serve the country, but also because it would be good for her," he said.
Inspiration
According to Tao, the recruitment official, about 30 young men from Chengmagang, which has a population of about 60,000, enlist every year.
However, the township's quota is limited and there are more applicants than places, so some are persuaded to withdraw their applications or wait until the following year.
At this time of year, the recruitment process is in full swing, and more than 40 men from Chengmagang have applied to join the PLA.
One of them is Zhang Jinzhong, who has been inspired by his brother and two classmates who are already serving in the Army.
"My hometown is the 'home of the generals'. I grew up hearing stories about those men. They are heroes. I want to join the Army because I want to be a hero like them," the 20-year-old high school graduate said.