Brand knockoffs targeted by big data
Copyright protection chiefs from across China converged on Alibaba's headquarters on Tuesday to learn how the e-commerce giant's big data technology can help crack down on fake goods.
It was the first meeting of the Cloud Sword alliance, which aims to combat the scourge of counterfeit goods since it was expanded to 13 provincial areas in May.
Officials saw a presentation on how Alibaba has used big data to identify fake goods and to locate online store owners, affiliated dealers and factories suspected of producing or selling knockoffs. The information is then passed to local authorities.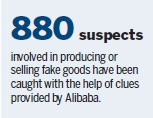 Such cooperation has proved effective and beneficial both to the governments and to the company's online shopping platforms, said Chai Haitao, deputy director of the National Office of Combating Infringement and Counterfeiting, which organized the meeting.
"Governments used to rely on whistleblowers for clues, but with the help of big data they can take the initiative on more cases," he said.
"For Alibaba, the best way to block vendors with bad reputations from re-entering its shopping platforms is not closing their stores but eradicating the criminal chain with the help of government power."
Cloud Sword was created in May 2015 as an alliance between Alibaba and Zhejiang province. The e-commerce company is based in Hangzhou, the provincial capital.
Since then, the alliance has grown to include Shanghai, Jiangsu, Anhui, Jiangxi, Hainan, Guangdong, Fujian, Yunnan, Guizhou, Sichuan and Hunan provinces, and the Guangxi Zhuang autonomous region. Combined, their populations and GDP account for more than half the national total.
"Companies in these regions, especially those on the east coast, are active in producing and selling fake products," Chai said.
So far, Alibaba has provided local authorities with nearly 1,200 clues on suspected sellers and producers of fake goods, assisting police in catching 880 suspects and seizing goods valued at more than 3 billion yuan ($450 million).
Huang Guanghua, a senior inspector in the Guangdong Provincial Intellectual Property Administration, said the number of cases related to intellectual property infringement more than doubled from April to June, before the province joined the alliance.
Those who make and sell counterfeit goods are increasingly using e-commerce platforms, but in most cases they have a detailed division of labor scattered across different regions, with elements both online and offline, which makes the violations harder to detect using traditional means, Chai said.
For example, an online shop that sells knockoffs is registered in Zhejiang province, but the operator, the factory that produces the fake goods and the storehouses in the chain are all in different provinces, Chai said.
"But the good thing is that all the sales and payments online leave a digital record," he said.