Nation opens logistical base in Africa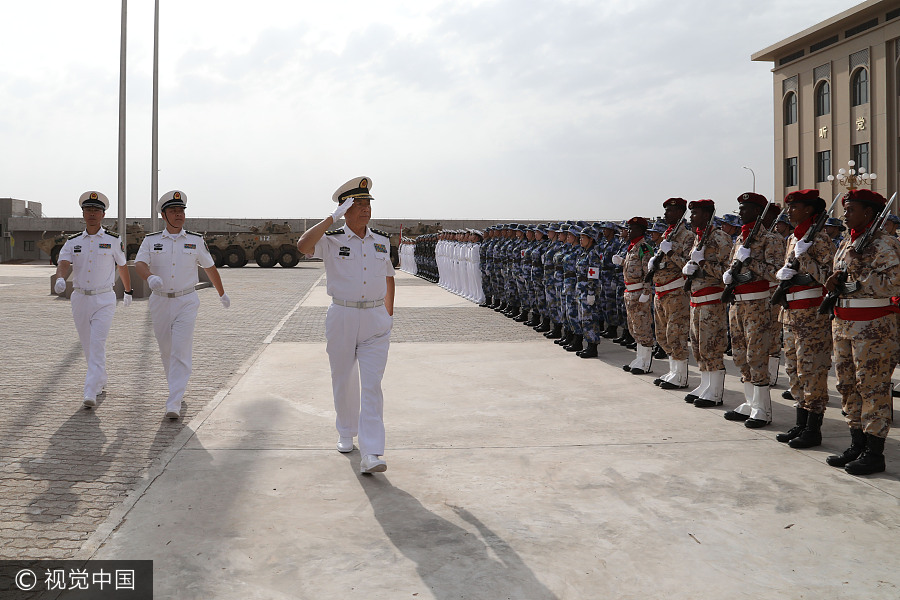 Vice Admiral Tian Zhong, deputy commander of the PLA Navy, inspects forces in Djibouti, August 1, 2017.[Photo/VCG]
China's first overseas logistical base began operations on Tuesday, the same day as the 90th birthday of the People's Liberation Army.
More than 300 people attended the flag raising ceremony that marked the opening of the Djibouti base, on the Horn of Africa. Representatives from both countries attended, including Vice-Admiral Tian Zhong, deputy commander of the PLA Navy; Chinese Ambassador to Djibouti Fu Huaqiang; and Djibouti Defense Minister Ali Hasan Bahdon.
The base, near the southern entrance to the Red Sea and the Gulf of Aden, is China's only permanent overseas logistical base. It was established to support the Chinese military's escort and peacekeeping missions in Africa and West Asia.
It can support some 10,000 people, according to PLA Daily, but official figures for the number of personnel to be stationed there have not been released.
On July 11, the Navy dispatched two ships, CNS Jinggangshan and CNS Donghaidao, to bring in personnel and put on the finishing touches. The Jinggangshan is an amphibious warfare landing platform dock that carried marines, engineers and vehicles to the base. The Donghaidao is a heavy-lift, semisubmersible logistics ship for oversized cargo like equipment.
The base is near Camp Lemonnier, a US naval base used for staging aerial, drone and Special Forces missions in East Africa, the Arabian Peninsula and the Persian Gulf.
France and Japan also have bases in the country. This year, Saudi Arabia is finalizing deals to build a base there.
Liu Hongwu, the president of the Institute of African Studies at Zhejiang Normal University, said Djibouti, with a population of 960,000, is strategically significant both economically and militarily, hence many nations are "scrambling to get a footing" there.
"It is situated at the juncture of Europe, Asia and Africa; in a sense, it is the crossroads of the world. Djibouti is also a relatively stable and safe country. Its leaders are open to international cooperation, thus making the country an ideal logistics hub and door to Africa."
A 750-kilometer railway, financed and built by China, links the port capital of Djibouti with landlocked Ethiopia's capital, Addis Ababa.