Captive female panda takes walk on the wild side to find her mate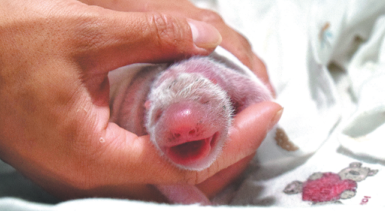 A newborn panda cub is examined in Chengdu, Sichuan province, on Monday. The mother, Cao Cao, who was raised in captivity, mated with a wild male. It is the first time such a union has produced offspring.[Li Chuanyou/For China Daily]
The first panda cub produced by mating a female raised in captivity with a wild male was born in Sichuan province in the early hours of Monday.
The cub weighed 216 grams, much heavier than the average 150 grams for a newborn, according to Zhang Hemin, deputy executive director of the China Conservation and Research Center for the Giant Panda at the Wolong National Nature Reserve.
Cao Cao, the mother, is 16 years old (equivalent to 48 in human years) and considered old for giving birth, he said.
She had been raised in captivity and was released into the wild at the center's Hetaoping base on March 1 in time for the panda mating season, which runs from March to May.
In March, several male pandas were seen fighting for the right to mate with her, and researchers at the center began checking data every five days sent by the GPS tag on her neck-which was fitted with a recording device.
When they checked the recording on March 27, they heard her making noises similar to those made by females while mating. The mating, which might have taken place on March 23, lasted 1 minute and 30 seconds, Zhang said.
Cao Cao was born in the wild but was rescued and taken to the center at age 2 after she was found in poor health inside the reserve. Before giving birth on Monday, she had already given birth to six cubs.
Two of the six are well-known to pandaphiles-male Tao Tao and female Zhang Xiang. Both have been released into the wild in the Liziping Nature Reserve in Sichuan.
Tao Tao was 2 years old when released into the wild in 2012, and Zhang Xiang was the same age when released in 2013.
With the goal of enlarging the wild panda population, the center has released seven captive pandas in Liziping since 2006. Five are faring well, including Tao Tao and Zhang Xiang.
The center used to capture wild pandas for research and reproduction purposes, but since the early 1990s, the government has banned capturing wild pandas. As a result, captive pandas have had to mate with their captive peers. As the number of captive pandas is limited, this might result in inbreeding and is not good for biodiversity, experts say.
The center formulated a plan last year under which captive pandas could mate with wild ones, and Cao Cao was the first captive panda chosen. The objective is to improve the gene pool of captive pandas.