Vehicles, aircraft, troops show readiness
The People's Liberation Army's parade on Sunday reflected the Chinese military's latest efforts to strengthen its combat readiness and joint operation capability.
The PLA also used the occasion to publicize its achievements in armament modernization as nearly half of the weapons and equipment used in the event were presented for the first time in a parade, according to organizers.
The military sent 12,000 troops, about 600 land and naval weapons, and nearly 130 aircraft to participate in the parade, the first in the PLA's history to celebrate its birthday, which falls on Tuesday. The event was organized by the PLA Central Theater Command on orders of the Central Military Commission.
Field parade
The event began at 9 am at a training field of the Zhurihe Training Base, Inner Mongolia, as President Xi Jinping, also chairman of the Central Military Commission, took a car to inspect troops from all military branches who were taking part in the event. After the president returned to a central stage built to review the parade, more than 200 soldiers, carried by assault vehicles, escorted flags of the Party, the People's Republic of China and the PLA and passed the central stage.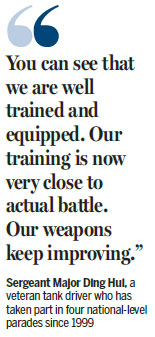 Then 17 attack helicopters flew past the parade zone, forming the two Chinese characters of Aug 1, the birthday of the PLA. They were followed by another 24 helicopters that flew in a shape of the Arabic numerals of 90, which symbolized the 90-year history of the PLA.
Next, 18 transport helicopters, guarded by eight attack helicopters hovering low in the air, landed and deployed hundreds of soldiers at a rough training ground in front of the stage.
The demonstration of helicopters carrying troops to "penetrate enemy defense" was the first time the PLA has presented fighting maneuvers in a parade and also marked the public debut of the PLA Ground Force's airborne assault unit.
Weapons used by the ground strike group were the Type-99A main battle tank, Type-08 and Type-04A infantry fighting vehicles, 122-milimeter and 155-mm self-propelled howitzers, 300-mm multiple rocket launcher as well as HJ-10 anti-tank missile carrier. All represent the best arms of Chinese land forces.
Next in line was the information support group. It showed some of the nation's latest electronic warfare devices, such as electronic reconnaissance and electronic countermeasure vehicles, as well as anti-radar and communication-jamming drones, making public the PLA's information operation capacity for the first time.
The third group represented the Chinese military's special warfare prowess, with hundreds of elite commandos riding on dozens of light-duty reconnaissance and armored assault vehicles.
The fourth group - air and missile defense - featured early-warning radar, anti-aircraft missiles and anti-missile interceptors. The HQ-9B and HQ-22 missiles are new-generation weapons in China's air and missile defense systems.
The next formation, the naval combat group, was composed of marine and naval missiles including the latest models - HHQ-9B air defense missile and YJ-12A anti-ship cruise missile.
Up in the sky, the bulk of the aerial combat group roared through the dust and exhaust produced by moving vehicles on the ground. The group comprising seven elements - early-warning and control aircraft, bombers, transport planes, refueling tankers, aircraft carrier-borne and land-based fighter jets as well as a mechanized parachute unit.
Aircraft taking to the sky included almost all of the PLA's most advanced types, such as the J-20 supersonic stealth jet, the world's third type of fifth-generation fighter jet, KJ-500 early-warning and control plane and Y-20 strategic transport jet.
The next two groups were logistical support and counterterrorism forces.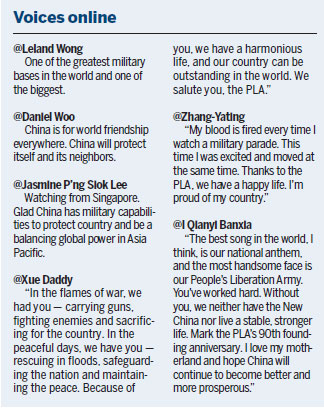 The last, perhaps also the most eye-catching, group was from the PLA Rocket Force. Five types of ballistic missiles including DF-16G, DF-21D and DF-26 were carried by wheeled launch vehicles.
According to the Rocket Force, DF-16G carries conventional warhead and has high accuracy, strong destructive power and a short preparation time.
The DF-21D land-based, anti-ship ballistic missile features a large coverage and good penetration and target-tracking capabilities. It is a milestone in the PLA's effort to implant strategic capacity into its conventional ballistic missiles.
The DF-26, a new strategic deterrence weapon, is capable of conducting off-road launches of conventional and nuclear warheads in tough terrain. It can carry out a rapid nuclear counterattack and medium - to long-range precision strikes using a conventional warhead, the Rocket Force said.
Closeness to combat
Sergeant Major Ding Hui, a veteran tank driver who has taken part in four national-level parades - in 1999, 2009, 2015 and on Sunday, said the public can see via the Zhurihe parade what his unit, a mechanized infantry division, has gained through its combat-ready training in the recent years.
"You can see that we are well trained and equipped. Our training is now very close to actual battle. Our weapons keep improving - the Type-99A is the most advanced tank I've operated," he said. "Compared with previous tanks, it is easier and more comfortable to use and can communicate with other units such as aircraft to call for reinforcement."
Ding also said the tanks moved at a speed of 15 kilometers per hour in Sunday's parade, faster than that in previous parades, which was maintained at 10 km/h. He said the higher speed was meant to demonstrate the "fighting status" of tanks.
Major General Tang Ning, deputy chief of staff of the Central Theater Command's ground force, said the PLA Ground Force has been seeing huge strides in terms of information capacity and diversification.
Now, more combat units have air defense missiles and self-propelled guns in addition to their traditional weapons such as tanks and armored vehicles, Tang said. They have adapted to those new arms and modern joint operation, he said.
Major Mao Lei, an Air Force staff member in charge of training the paratrooper unit in the parade, said the composition pattern of his unit revealed its sense of combat readiness.
"During previous parades at Tian'anmen Square, we sent only one type of airborne tracked armored vehicle, but this time, our parade unit had not only the armored vehicle but also an airborne wheeled assault vehicle," he said. "This was because their combination, rather than merely one of them, is what we would use for a real battle. We showed today what we would be like in an actual war."
He said the Chinese parachute force has become capable of making long-range deployment of heavy-duty weapons thanks to the intensified training and deliveries of new equipment during the past five years.
"For instance, compared with the past, when we were capable of airdropping just one type of heavy-duty equipment in each operation, we are now able to deploy multiple types of such equipment in a single mission," he said.
Lieutenant Colonel Qing Yingsong, an Air Force officer from the Central Theater Command who makes plans for bombers' training, said the bomber units that appeared in the parade engage in regular drills to confront anti-aircraft, radar and electronic-warfare forces to hone pilots' capabilities.
He said the units also conduct long-range flight training over the high seas to test their strike capability.
Qing's colleague, Colonel Fan Huiyu, an Air Force researcher in the command, said the headquarters for air units in the parade used command and communications vehicles instead of fixed facilities in previous parades.
"This was because we treated this parade as an opportunity to verify our readiness for a real combat, which requires us to be mobile and to be able to respond quickly," he said.
Contact the writer at zhaolei@chinadaily.com.cn