Blind woman's request for braille law exam paper denied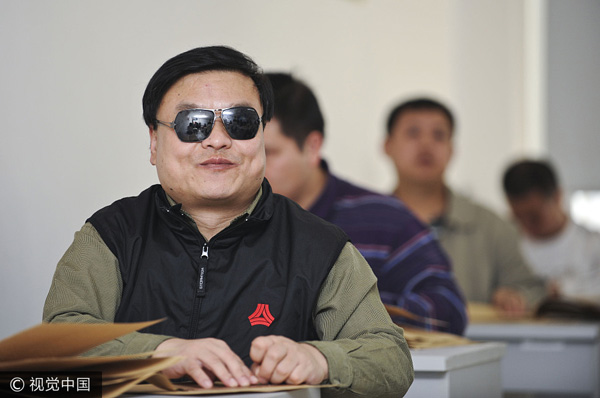 A blind man sits an exam in Beijing, Oct 16, 2010. [Photo/VCG]
A blind woman who has spent five years learning about the law has been told there are no braille judiciary exam papers in East China's Shandong province, Beijing News reported on Friday.
Wang Rui signed up for the national judicial examination in early July. She asked the judicial authority of Qingdao, Shandong province, to provide a braille examination paper or electronic paper equipped with screen reader software so she could understand it.
After being refused, Wang asked the Ministry of Justice on July 22 what the process is to get a braille judicial examination paper, but she has not received a response yet.
On Thursday, Qingdao judicial authority offered to dispatch a staff member to help Wang with the exam by reading the questions and dictating Wang's answers.
Self-taught law exam candidate was a masseuse
Majoring in acupuncture and manipulation, Wang Rui worked as a masseuse after graduating from university in 2009.
One year later, she started working in human resources and employee training at a massage company, sparking an interest in legal matters.
Since 2012, she learned law by herself via online courses and electronic books on her computer and mobile phone every day.
Examination critical to realize career goal
"I think being a lawyer is a career that has a sense of justice," Wang said. "I want to use what I have learned to safeguard the rights of people with disabilities and that goal can only be achieved by passing the judicial examination first."
"Every candidate has the right to acquire an exam paper that fits their physical condition. It is a basic issue of equality," she said.
According to the Law of the People's Republic of China on the Protection of Disabled Persons "where visually impaired persons take various entrance examinations, occupational qualification examinations and appointment examinations held by the state, braille or electronic examination papers shall be provided to them, or special workers shall be arranged to offer assistance".
Wang said she wants to do an electronic paper, because she usually studies via computer and is accustomed to adjusting the speed of the screen reader according to her will.
She said after taking the examination, she will express her feelings about the examination and send them to judicial authorities as a suggestion.
No special exam paper for the blind in many regions
Judicial authorities in many provinces, including Jiangsu, Anhui and Shanghai, revealed that they do not have an exam paper suitable for blind candidates.
Wang Yukai, a professor at the Chinese Academy of Governance, said that as there is no law stipulating people with disabilities can't be a lawyer or take the judicial examination, Wang Rui has the right to ask for a proper exam paper.
It is a loophole of judicial authorities not having specially-made exam papers for the blind, Professor Wang said, adding that Qingdao dispatching a staff member to help is a remedial measurement, but not a solution for good, as it is hard to be popularized nationwide.
"Authorities should make specially-made exam papers for people with disabilities as soon as possible," he said.
The latest data from China Disabled Person's Federation shows that China has more than 85 million people with disabilities.
Only one visually-impaired man is reported to have completed the judicial examination with the help of two staff members and acquired his qualification certificate for legal professionals in the Tianjin municipality in 2006.