Israeli scholar and best-selling author makes China debut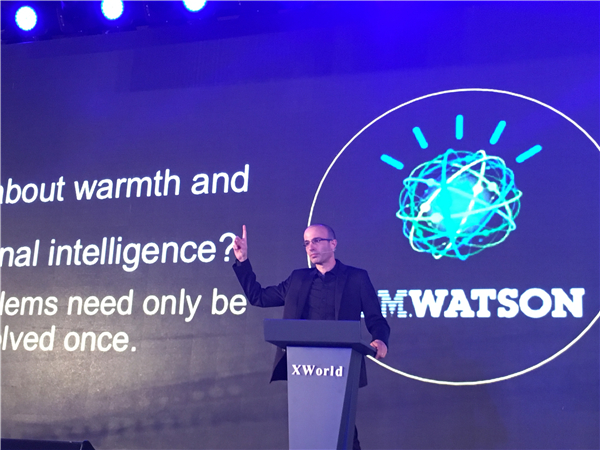 Yuval Noah Harari speaks at the forum in Beijing, July 7, 2017. [Photo by Jin Dan/chinadaily.com.cn]
Young Israeli scholar of history Yuval Noah Harari made his debut appearance in China at a forum held in Beijing on Thursday.
Harari, a 40-year-old writer who gained global recognition after his two books on humankind and humankind's future became best-sellers, also won hearts of audience in the capital.
At the forum called "XWorld", Harari delivered a speech on "Artificial Intelligence and the Future of Humanity", in which he reiterated his view presented in his two books, Sapiens: A Brief History of Humankind, and Homo Deus: A Brief History of Tomorrow.
"The most important scientific revolution of our era and the most important revolution of any kind in the 21st century is artificial intelligence," he said after greeting the crowd with ni hao, Chinese for hello. Harari added that artificial intelligence (AI) will turn out not only to be the greatest revolution in our age, but the greatest in the "history of life".
"The authority to make both important and unimportant decisions on life has increasingly shifted to computers and AI," he said. "Today, when you read books on devices, the books or devices are reading you."
And on equipping AI with warmth and emotional intelligence, Harari said people need to solve the problems only once.
He said technology is not deterministic, intelligence isn't consciousness. "The development of AI will completely change the world. But what kind of society AI will help to create? When you - individuals, companies or governments - invest in the development of AI, you should be aware of its social, economic and political implications."
His first book Sapiens: A Brief History of Humankind was published in Hebrew in 2011 and then in English in 2014. It has since been translated into about 30 languages, enjoying great readership in various countries.
Although the tickets to the Beijing forum were expensive, that did not deter his fans' passion to see him in person and listen to his speech. About 1,500 audience members, including investors, entrepreneurs, scholars attended the event.