Bus crash leaves 19 dead, 30 injured
Nineteen passengers were killed and 30 others injured after a bus carrying 49 people turned over on the Longmen section of the Guangzhou-Heyuan expressway in Huizhou, Guangdong province, at 1 pm on Thursday.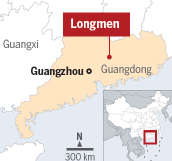 The accident occurred when the bus, bound from Guangzhou, Guangdong, to Puning, a county-level city in the province's Jieyang, hit the roadside guardrail to the right of the vehicle on an uphill, curved section of the expressway and turned over, according to the Ministry of Public Security's Traffic Management Bureau.
The injured passengers were treated at hospitals in Longmen, Huizhou and Guangzhou's Zengcheng district. On-site rescue and clearance were concluded by 4:30 pm, according to the Huizhou city government.
Medical experts from Huizhou and Guangzhou rushed to Longmen County People's Hospital to help treat the injured. A medical rescue helicopter based in Huizhou was deployed to transport the victims to hospitals.
The bureau has sent a work team and accident investigation experts to Huizhou.
The bus, with capacity of 55 passengers, belongs to Jieyang Automobile Transport Co.