Report: Childhood obesity accelerating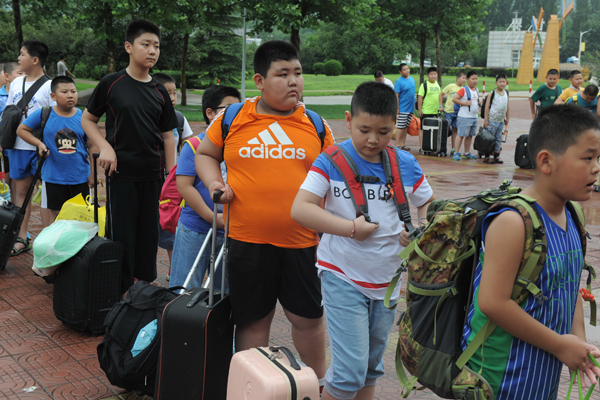 Elementary and middle school students get ready for a 10-day training camp to lose weight in Jinan, Shandong province. About 500 participated. Provided To China Daily
One in four Chinese children age 7 or above will be obese in 2030, a report issued by Peking University's School of Public Health and other organizations forecasts.
The Report on Childhood Obesity in China, released on Thursday, says childhood obesity has been growing at an astonishing rate. It is predicted that the prevalence of overweight and obese students aged 7 to 18 will reach 28 percent in 2030 without intervention.
The report, developed from data collected in nine cities, showed that in 2014, 28.2 percent of boys and girls aged 7 to 18 were overweight while 16.4 percent were obese by standards adopted by the United Nations.
"In the 1980s, childhood obesity was neither an epidemic nor a public health problem. However, from the beginning of the 1990s, it has been growing," said Ma Guansheng, a professor of nutrition at the university's public health school.
Childhood obesity has risen to epidemic proportions nationwide, and growth in the number of rural students who are overweight or obese is accelerating, Ma said.
While genetics play an important role, the rapid growth of obesity in the last decade was mainly caused by behavioral and environmental factors, including changes in consumption and the food supply, as well as in physical activity, the report said.
According to Ma, obesity is also a risk factor for a variety of chronic diseases. The increase in childhood obesity has led to chronic diseases occurring at younger age, she said, adding that excess weight and obesity have become major risk factors for childhood cardiovascular disease and Type 2 diabetes.
"Comprehensive intervention could play a better role in controlling childhood obesity," Ma said.
zhang_yi@chinadaily.com.cn