Young mother raises child and hope on shale gas field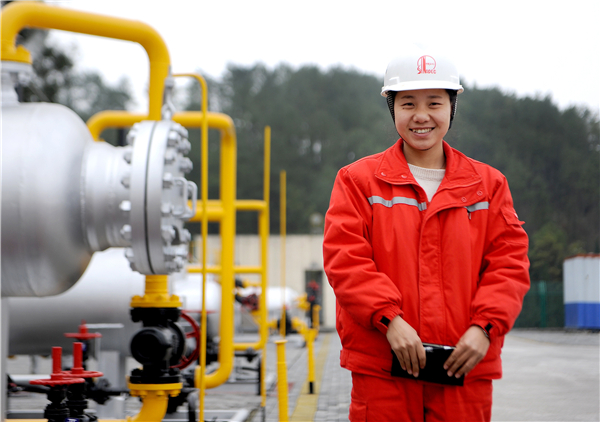 Mi Ying poses for a photo near gas production equipment on Sinopec's Fuling shale gas field, Southwest China's Chongqing. [Photo provided to chinadaily.com.cn]
For her, it's all about numbers. She starts her day by reading operation data from all her "children", the shale gas wells. Apart from analyzing data on computer screens, most of her time is spent going from one well to another, climbing up and down, walking far or squatting for a long time, bending down or looking up, to take notes on the numbers.
She is Mi Ying, a technician working at Sinopec's Fuling shale gas field in Southwest China's Chongqing. She is also a young mother of a 3-year-old girl, and she's shy when answering a question on which one gets more attention - the gas wells or her daughter. Because the answer is fairly clear: the former.
31-year-old Mi is from Northwest China's Shaanxi province, having set up a family in Chongqing, and has been working on this shale gas field for three years. "For everyone here, shale gas is their child," Mi told chinadaily.com.cn.
But for Mi, a young mother whose pregnancy nearly coincides with the start of China's shale gas commercial production, she may have a better understanding.
Mi graduated from Xi'an Shiyou University in Shaanxi with a bachelor's degree in petroleum engineering in 2008. Upon graduation, she was employed by Sinopec Jianghan Oilfield and began her career at a gas production plant in a remote town in Central China's Hunan province.
In 2014 when Sinopec launched China's first shale gas commercial production program in Fuling, Mi decided to join forces with this new but promising cause. It was her stellar performance at the plant in the past five years that opened the door for her in Fuling.
She came to Fuling with 200,000 words of notes written in over 10 notebooks to work on optimizing gas production through monitoring and data analysis.
But shale gas production was new to China at the time, and American experiences gained in deserts can't be fully applied to the mountainous area of Fuling.
She raced against time while looking up scientific literature in this field and racked her brain to solve problems in production. In half a year, her nickname "Xiaomi" became a brand in the field and her and her colleagues' research achievements helped optimize production which translated into profits of 70 million yuan ($10 million).
And she did all this while pregnant. But this wasn't all: she impressed everyone with her decision to conclude her maternity leave earlier than the stipulated date. She accommodated her daughter and her mother-in-law in a rental home in the town near the gas field.
"I would have loved to take longer leave with my daughter but we were indeed short of hands at that time," Mi calmly told chinadaily.com.cn with more maturity than her age.
She was awarded for her dedication to shale gas production, including national awards honoring her as best young woman and best female worker.
But shy Mi said little about these awards, claiming she was just as ordinary as her colleagues, "There are many people on the shale gas field who might not be qualified for their role as parents or children, but they are all competent employees for the job."
Sinopec's Fuling shale gas project now has reached production capacity of seven billion cubic meters and is expected to achieve 10 billion by the end of this year. Their gas has been used in tens of millions of households reaching as far as Shanghai, about 2,000 km away, as well as Chongqing and six provinces along the Yangtze River Economic Belt.
Those enjoying their dinner cooked with the gas from Fuling may never personally know the young mother called Mi Ying behind this giant energy project. But her efforts and devotion to the future of energy are undeniable.
"I have to say I joined the industry as a coincidence as I was admitted to this major in college. But I have never had regrets about it, because I think it's meaningful to work in this field," said Mi. "As for my daughter, I will cherish the time I can spend with her."