Nation's first organ relay saves lives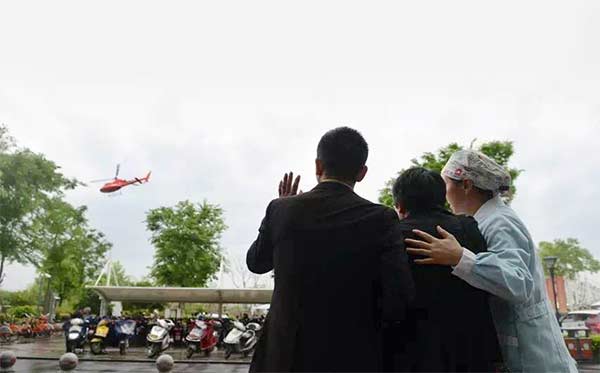 Liu Guoqun's father, Liu Wanyong (center), and other family members bid farewell to the helicopter carrying the woman's donated organs from Jiaxing to Hangzhou, Zhejiang province, on Thursday. It was the first step in a transplant relay. TIAN JIANMING/CHINA DAILY
A relay to transport lifesaving human organs on Thursday marked new hope for several seriously ill patients and a new step for China's young but maturing transplantation program.
It was the first time a relay involving both a helicopter and a commercial jet had been attempted, and it was all made possible by the generosity of a grieving family who had just lost a young woman in the flower of youth.
In a hospital in Jiaxing in Zhejiang province, a 21-year-old woman named Liu Guoqun, who had sustained a mortal head injury in an accident on April 25, was declared brain dead by doctors after efforts to save her failed.
Liu's family gathered at her bedside, and her parents struggled with what to do, but finally came to the decision to donate her heart, liver, kidneys and corneas to benefit others.
"I believe my daughter's life will continue on through the transplants," her father, Liu Wanyong, told China Central Television.
Soon, candidates to receive the organs were found in the provincial capital of Hangzhou, 80 kilometers away, and in Beijing, a distance of 1,220 km.
But time was short, and ground transportation was out of the question. A heart, which was the organ needed in Beijing, must be used within five hours. A relay plan was hastily organized.
A helicopter rushed all the organs to Xiaoshan International Airport in Hangzhou within 26 minutes on Thursday morning, the CCTV report said.
An Air China passenger jet, flight CA 1711 to Beijing, was delayed for 23 minutes and took off as soon as the heart was aboard the plane.
The helicopter then whisked the remaining organs to the Second Affiliated Hospital of Zhejiang University in Hangzhou. It arrived in 12 minutes and the organs were rushed to operating rooms, where doctors and their patients waited.
The woman's liver and two kidneys were transplanted, giving three patients a new lease on life.
While the heart arrived in Beijing in time, doctors performing tests needed before the transplant found "functional inadequacies" in the organ that ruled out its use, the report said. The patient would have to continue to wait.
Two patients will get the woman's corneas, restoring their sight, on Tuesday.
"It was a great effort," said Wang Jian'an, the head of Second Affiliated Hospital of Zhejiang University.
"It is China's first helicopter-and-plane relay to transport organs. All departments and organizations gave a green light on transportation."
In China, regulations allow organ donations after doctors declare a donor brain dead, but family members must sign documents to permit the donation.