Xi encourages bigger role of Internet Plus in poverty alleviation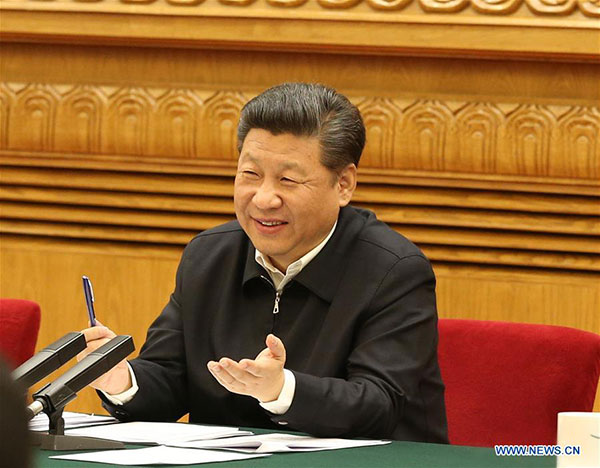 President Xi Jinping, also head of the central Internet security and informatization leading group, presides over a symposium on cyberspace security and informatization in Beijing, April 19, 2016. [Photo/Xinhua]
President Xi Jinping once said that poverty alleviation is an important part of his work and he spent most energy on it. He pledged that the government will lift the country's 70 million poor people above the poverty line by 2020.
Presiding over a symposium on cyberspace security and informatization on April 19, 2016, Xi said online services should play a bigger role in reducing poverty by promoting agricultural goods produced by impoverished people and by making high-quality education accessible to more children in remote mountainous region via internet.
He connected internet with the work of poverty relief for the first time, providing a new direction for the cause.
Internet Plus ushers a new stage for poverty relief
When Xi visited Southwest China's Guizhou province in June 2015, he said that poverty relief should be precisely targeted as it determines whether poverty alleviation will be successful or not.
As Internet Plus becomes a national strategy, "internet plus targeted poverty alleviation" is viewed as an important impetus for the development of the impoverished areas.
Though the direction is clear, just as Xi pointed out on April 19 last year, the internet infrastructure remains a weak link among these villages.
To overcome this weakness, a national plan on internet-based poverty alleviation was issued in Oct which outlines five projects - broadband coverage, rural e-commerce, access to online education resources, information services and internet philanthropy.
The plan aims to provide broadband network coverage to more than 90 percent of poverty-stricken villages, provide access to e-commerce services in all townships and improve the health, literacy and employment competitiveness of impoverished people through online medical, educational and cultural services, according to Xu Yu, director of informatization development bureau of Cyberspace Administration of China.
Precise targeting of anti-poverty programs
During his visit to Chongqing municipality in January 2016, Xi said the success of development-oriented poverty relief lies in "precise and targeted poverty alleviation efforts."
Precisely targeting those in need is a key step before allocating policy and fund to the impoverished households.
"After scanning the QR code, the updated data of every impoverished household show up. It reveals the latest situation of those in poverty," said a government staff member engaged in poverty relief in Linshui county, Guang'an of southwest China's Sichuan province.
The county established a dynamic database which includes gathering data of all impoverished households in the county every March. It has also put up a QR code on the door of every household for people to scan and know the progress of poverty relief work.
Last year, a total of 81,800 impoverished people located in 152 villages were registered. Internet Plus provided the new idea and technology to accelerate the work of poverty relief.
Role of Internet Plus in tackling poverty
Xi emphasized several times that providing children in impoverished areas access to good education is an important task in poverty alleviation and development, and is also an important method of stopping intergenerational transmission of poverty. He also suggested that "Internet plus education" should be a solution to the problem.
Recently, young teachers at Jingzhoujie Primary School, a key school in Xiangyang, Central China's Hubei province, gave English lessons to a dozen of students in Youfangjie Primary School in Baokang county via video streaming.
The lessons were part of Xiangyang city's "Banbantong", literally meaning class to class, project. Currently, 'Banbantong"project covers more than 98 percent of schools, 90 percent of teachers and 50 percent of students.
Hubei province has vigorously promoted the use of internet in schools in rural areas in recent years, in the hope of sharing high quality educational resources in rural areas and narrowing the gap between urban and rural students.
Medical resources, just like educational resources, are unevenly distributed and high-quality resources are scarce in rural areas. Some rural people fall back in poverty due to medical bills. "Internet plus medical" can be a big solution in tackling the issue.
On March 15, an internet hospital subordinated to the First Affiliated Hospital of Henan University of Science and Technology began operation in Luoyang. At the same time, People's hospital of Luanchuan County, 15 township health centers and 35 village health centers in the poverty-stricken county also opened their remote network medical platforms, providing a channel to connect medical experts in the city hospital with rural patients.
Sources: chinadaily.com.cn, cctv.com