Online imported goods falling short of standards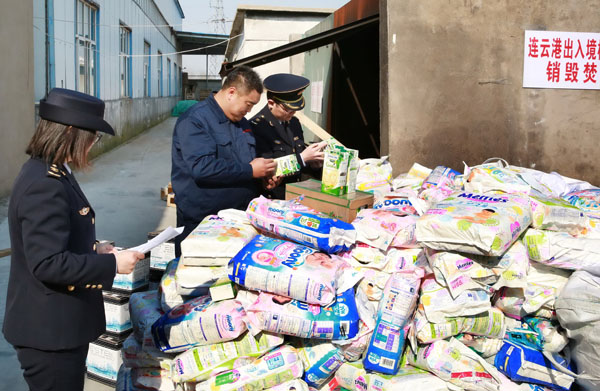 Product quality inspectors destroy substandard imported goods earlier this month in Lianyungang, Jiangsu province. [Photo by WANG JIANMIN/FOR CHINA DAILY]
Quality supervision to be improved in bid to protect consumers' rights
More than 40 percent of consumer goods exported to China last year through e-commerce platforms fell short of standards, China's top quality watchdog said on Wednesday, World Consumer Rights Day.
Last year, the General Administration of Quality Supervision, Inspection and Quarantine conducted random quality inspections on 1,013 batches of such products, including consumer goods such as toys, paper diapers, clothing and kitchenware, with 415 found to be substandard, accounting for 40.9 percent of all sampled products, according to Han Yunping, spokesman for the administration.
In addition to meeting quality standards, imported products must be correctly labeled in Chinese, according to national regulations.
The quality of consumer goods imported through channels other than e-commerce proved to be higher, with only 29 percent falling short of standards, according to figures released by the administration.
It organized two large-scale inspections last year, involving more than 5,300 batches of imported consumer goods, such as air purifiers, car brake blocks, household electrical appliances and clothes, with more than 1,500 found to be substandard, Han said.
Last year, quality supervision authorities across China handled 36,000 cases relating to violations of laws on quality standards, involving 2.3 billion yuan's ($333 million) worth of goods, Han said.
"Quality supervision authorities at all levels must intensify quality supervision and keep cracking down on law violations to improve the quality of products and protect consumers' rights," said Mei Kebao, deputy head of the administration.
China's import and export volume through e-commerce platforms reached 4.8 trillion yuan in 2015, a 28 percent year-on-year increase, according to a report released by AliResearch, a Beijing-based e-commerce research institute. China's foreign trade volume through e-commerce channels is expected to reach 12 trillion yuan by 2020, accounting for more than one-third of the country's total foreign trade, the report said.
With online shopping booming in China, the quality of products is a top concern among consumers, according to media reports.
"Emerging industries, like shopping through overseas e-commerce channels, developed rapidly in recent years, leaving legislation and regulations lagging behind," said Li Jun, a law professor who specializes in product quality and safety at the University of International Business and Economics in Beijing.
More supervision is needed to regulate shopping through overseas e-commerce platforms to ensure product quality and protect consumers' rights, such as setting higher thresholds for products that can be exported to China through e-commerce channels, Li said.
The e-commerce law, the draft of which is under discussion, will play an important role in regulating e-commerce development in China after it is approved, Li said.
Quality supervision authorities in China maintain supervision of cross-border e-commerce and issue risk warnings so consumers take precautions when buying products online, Zhi Shuping, head of the administration, said on Tuesday, adding that the administration is researching how to implement better supervision of the sector.