Millionaire prefers working on rail line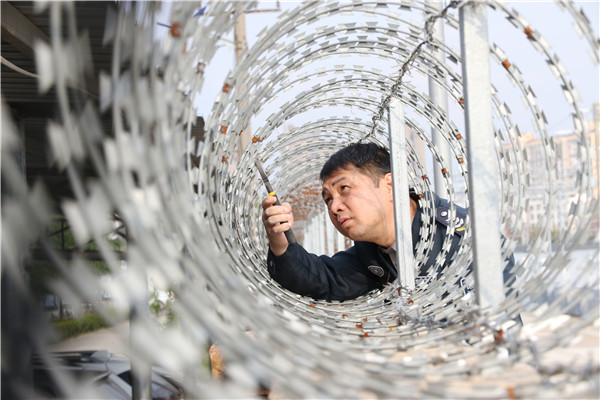 Liu talks with his team mates during a regular patrol. [Photo by LUO SHENG/FOR CHINA DAILY]
Railroad safety worker Liu Baoyong, like many of his neighbors in Nanning, capital of the Guangxi Zhuang autonomous region, became a yuan millionaire overnight in 2010, but continues to maintain tracks for little pay because he wants to keep his community safe.
Liu, 42, owns three properties and collects rent, which keeps him comfortable. Still, securing the rail line is his passion, and he has been honored for maintaining a successful record.
Born in a village near Nanning, Liu grew up alongside the rails and became an auxiliary officer for track safety at the city's railway station in 2004.
"When I was a child, we often heard of villagers being killed by trains when they got drunk or took shortcuts across the tracks. So I took the job to help prevent such tragedies," he said.
Today, Liu and his seven colleagues patrol the rail line around the clock to keep people from walking along the tracks or damaging the area. He is in charge of a 4.6-kilometer section of track.
He said villages and a busy wholesale fruit market straddle the rail line, which increases the potential for injury. "My squad has to keep an eye on these, day and night," he said.
Many villagers like Liu became millionaires in 2010 when they were compensated as urbanization and new construction led to the demolition of their old houses.
"Magically, we became landlords who can live well just by renting, like many of my fellow villagers do today-spending time gambling or hanging around," Liu said. "But I would rather secure the railway."
Liu drives 3 km daily to work, spending 1,500 yuan ($215) a month, almost half his salary, on fuel.
He manages safety along the rail line through patrols and mending even minor damage to the safety fence. His passion remains in railway safety maintenance, especially cracking down on crime.
In 2005, someone stole eight track transformers, paralyzing the rail line's entire signal system. After going a month without clues, Liu's investigation led him to the thief.
In the past 13 years, Liu's patrol has kept the line safe, with no traffic accidents in his section. His team has patrolled up to 10,000 km. He has been honored nine times by the local government for solving 20 criminal cases.
Liu said: "I have always believed it is what you have done that makes life worthy, instead of the money you make."
Fu Huajian contributed to this story.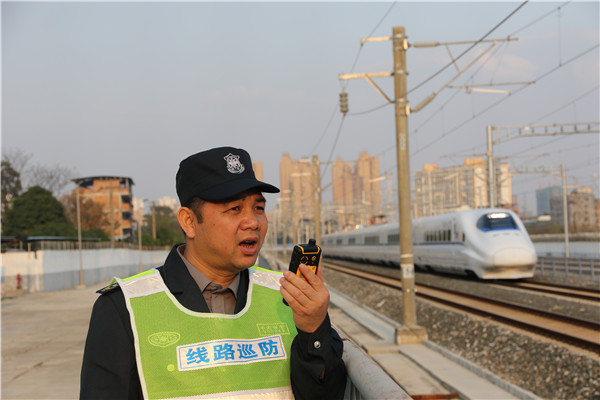 Liu Baoyong repairs fencing along the rail line he is responsible for maintaining in Nanning.[Photo by LUO SHENG/FOR CHINA DAILY]