Market value of space activities is expected to increase in coming years
China should build a space launch center dedicated to commercial missions, a senior scientist suggested.
Hu Shengyun, a senior rocket designer at the China Aerospace Science and Industry Corp's Fourth Academy, said that the existing launch centers - Jiuquan, Taiyuan, Xichang and Wenchang - are administered by the government and are tasked with serving State programs such as lunar explorations and manned spaceflight.
"These government-run launch centers are well developed, but they are too busy to handle the increasing demands from the commercial space sector, and it is not uncommon that even a government-assigned mission has to wait for arrangements at those sites," said Hu, also a deputy to the 12th National People's Congress, the country's top legislature.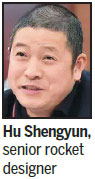 "In addition, the management and operational methods of the existing centers were specifically designed for State-funded programs rather than commercial missions, so carrying out a lot of commercial launches would probably cause them problems," he added.
Hu suggested that a new launch site could be set up in the Inner Mongolia autonomous region, the southern island province of Hainan or a suitable island off the country's eastern coast.
"The advantages of a site in Inner Mongolia are that it can share the existing ground control and tracking facilities of the Jiuquan Satellite Launch Center and that it has a small population," he said, explaining that a launch site must be far from populous areas to ensure safety.
A site in Hainan or an eastern island will feature low latitude, which will enable rockets to save a lot of fuel and to carry more payloads, as well as a high level of safety because most of the rocket's ballistic trajectory will be above the sea, according to the scientist.
Despite China having a long history of space exploration, almost all of its spaceflights have been made by the government or the military, with no participation from the business sector until recently.
Spurred by the rise of SpaceX and Orbital ATK, and having seen lucrative opportunities in space-based services, the two State-owned space contractors, China Aerospace Science and Industry Corp and China Aerospace Science and Technology Corp, have been allocating a considerable amount of resources to the commercial space sector.
Zhang Di, vice-president of the CASIC Fourth Academy, said that by 2020, the market value of commercial space activities in China will reach 30 billion yuan ($4.6 billion) each year.
zhaolei@chinadaily.com.cn
(China Daily 03/16/2017 page4)