Canine combatants set to be let off the leash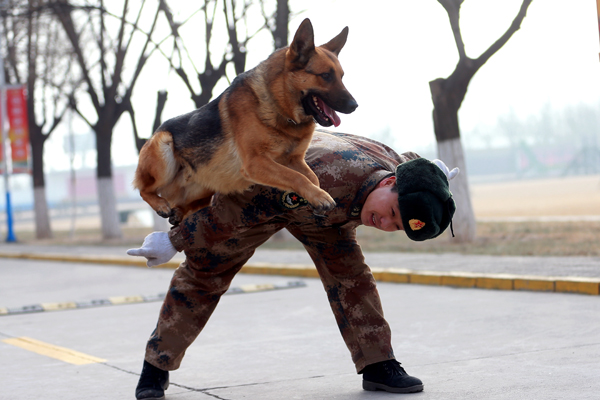 A new canine recruit is put through his paces at the training base.[Photo by Zou Hong/China Daily]
About 1,000 dogs are currently serving in China's military forces, and, in accordance with a directive on army dogs issued by the PLA in 2015, they are regarded as special soldiers and official members of combat units.
In the future, elite dogs such as Allen - ultra-obedient and with the ability to execute missions with precision - will team up with soldiers in special operations units, Zhang said.
Like all the dogs in the training school, when Allen was born at the base he was immediately tagged and enlisted. When he was just 6-months-old, the puppy was paired with Yang, who decided to call him Allen because he liked the sound of the name. The 2-year-old is now a star after winning the top prize at an international competition for army dogs held in Russia last year.
When the dogs complete their training and are ready to undertake missions, they will be dispatched to troops around China. The base also provides training for the soldiers who will handle the dogs. "It's as though we produce weapons here and we also teach people how to use them," Zhang said.
Although China now has state-of-the-art weaponry, army dogs remain irreplaceable military assets because of their extraordinary sense of smell, rapid reactions and, most important, their loyalty. The PLA will deploy more specially trained dogs to meet different demands from different troops, he added.
Comrades-in-arms
For Yang, Allen is not just a powerful weapon. "He is my comrade-in-arms and best friend. I cannot imagine him losing his life during an operation like some of our dogs, but as soldiers, the dogs know they need to face danger head on," he said.
Wang Peng still becomes emotional whenever the name "Bande" is mentioned. Wang's job is to take care of newborn puppies at the base. Bande, a German Shepherd, was born in 2008, but his mother died soon after giving birth. Since no other dogs would take the puppy in, Wang decided to nurse Bande himself, wrapping the dog in his own clothes to keep him warm. He wasn't sure if Bande would survive the cold winter.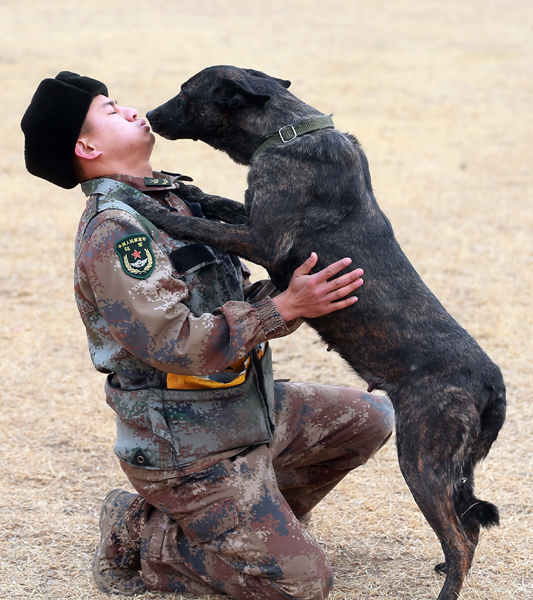 Sanpao, an 8-year-old army dog, plays with his trainer. [Photo by Zou Hong/China Daily]
With Wang's care, Bande grew to be a strong, outstanding army dog. In 2010, he was dispatched to a border control unit in the southeastern province of Yunnan, but two years later, he lost his life during an operation to apprehend cross-border drug traffickers. His jaws were still locked around a trafficker's hand when he died.
Wang sat and looked at a photo of himself and Bende together. In the picture, Bande stood with his forelegs on Wang's shoulders as he licked his handler's face. "It was like losing a family member. Bande was a true hero," Wang said.
Related: Retirement of army dogs