Spring Festival no longer online shopping free zone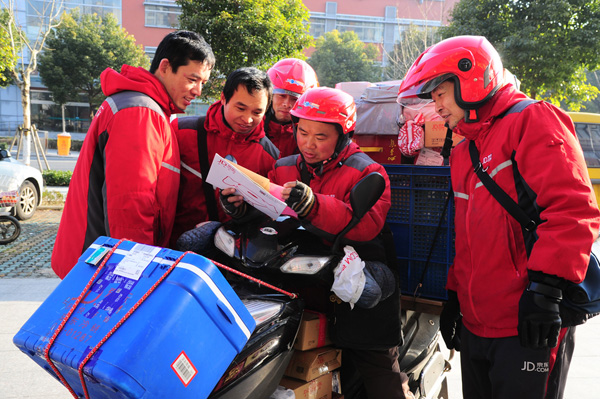 Some couriers from jd.com at work during Spring Festival holidays, Taicang, Jiangsu, Feb 3, 2017. [Photo/VCG] 
Spring Festival has traditionally been a slack season for e-commerce enterprises, but consumers' shopping habits have undergone big changes in recent years. One of the best examples of this new trend is a Beijing man who bought 200 gold bars with 570,000 yuan ($829,700) online this year.
It is the biggest online transaction for retailer jd.com, an employee told Beijing Morning Post on Wednesday.
Alcohol, seafood and fruit were the top three categories with the largest sales during the holiday. Fresh food, including fruit, vegetables and meat and seafood, were bestsellers, with nearly a fourfold increase in sales, while imported fresh food was up 14 times last year's sales.
Sports and outdoor products are becoming more popular as more and more people choose to go on holiday at Spring Festival. The number of people placing orders was almost double the number last year.
Sales of baby care products have also doubled, believed to be due to the second-child policy.
Online orders from county-level cities and townships surpassed those from first-tier and second-tier cities, while sales from those two parts were similar.
One difference in shopper behavior from normal periods is the disappearance of the peak ordering time usually from 10 pm to 11 pm as that is a time for family parties or recreational activities during Spring Festival. The morning peak from 10 am to 11 am did not change.
All orders were ensured by non-stop delivery services. There were more than 300,000 couriers still working during the holidays this year, according to Alibaba's logistics arm, Cainiao Network. Compared with last year's 120,000, it means a real boost in delivery capacity.
Couriers are handsomely paid for working during the holidays with one courier from jd.com in East China's Jiangxi province earning 16,194 yuan in half a month.