Charting a new course for a happy old age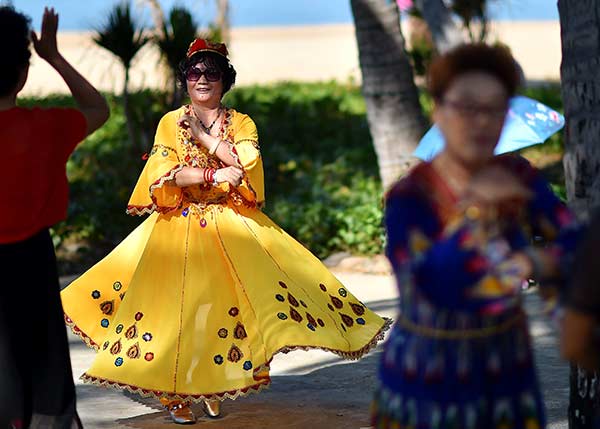 A senior practices dance steps in Sanya, Hainan province. The island has become a haven for elderly Chinese. [Photo/Xinhua]

A map that shows China's 'longevity hot spots' is prompting seniors to relocate in the hope of ensuring a healthier, more peaceful retirement. Cheng Yingqi reports.
The seemingly ever-present gray haze that has hung in the skies of North China this winter has prompted many people to consult a scientific resource that may contain the secret of a long, healthy life - a map that illustrates the geological distribution of centenarians around the country.
Recently, the map has been forwarded more than 100,000 times on Wechat, one of the country's most influential social media platforms, and its growing popularity has led many seniors to consider a change of lifestyle and relocate to areas with green hills and blue skies to ensure a pleasant old age and longer life.
Scientists from the Institute of Geographic Sciences and Natural Resources Research, which is affiliated with the Chinese Academy of Sciences, have been studying the relationship between geography and health since 1968.
Using data from China's sixth national population census in 2010 and the results of surveys that measured the levels of trace elements in water, soil, crops and the hair and fingernails of centenarians in different locations, they created an index to mark China's "long-life" provinces and towns.
Early in 2015, they published a paper, the result of decades of research in the field, in Scientific Decision Making, a science journal, which noted that China's longest-living populations are distributed unevenly across the country.
For example, the number of centenarians nationwide is 2.7 per 100,000 people, but in Hainan, China's southernmost province, the density is nine times higher.
Regional differences
Generally, in southern China, centenarians and people of advanced age account for a higher proportion of the senior population - that is, people age 65 and older - especially the Yangtze and Pearl River deltas, where the climate is mild and there is abundant forestry coverage.
Trace elements in the soil in these areas were found to have a correlation with longevity: regions with large numbers of centenarians and significantly older people usually have higher levels of cobalt, a key component of vitamin B, and selenium, which aids the function of the thyroid gland.
However, the samples also showed lower levels of heavy metals, such as mercury and lead, which can be harmful to human health, in soil, water and crops. In addition, a number of characteristics common among long-lived populations include a positive attitude, a lighter diet and a higher intake of vegetables.
"Geography influences people's health in many ways. So-called longevity towns are an integration of genes, mental factors, the natural environment and social environment," said Wang Wuyi, a researcher at the Institute of Geographic Sciences and Natural Resources Research in Beijing.
He believes that older people should be encouraged to visit or relocate to longevity towns.
"The green hills, blue skies, beautiful scenery, nourishing food and a harmonious social environment are all good for long life," he said.