Identities of pangolin dinner attendees named
The identity of a Hong Kong businessman who attended a dinner event in the Guangxi Zhuang autonomous region in 2015 at which pangolin meat was served has been confirmed.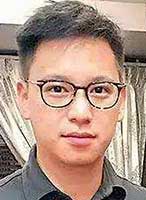 Calvin Lee Ka-wo
The organizing committee of a Hong Kong entrepreneurs' investment mission to Guangxi released a statement via local media, saying Calvin Lee Ka-wo's personal actions have nothing to do with the mission.
Lee Ka-wo is the son of a former chairman of a watch company. His post on Sina Weibo was published on July 15, 2015, including photos and text reading: "Bureau Chief Li and Secretary Huang invited us to the office in Guangxi to cook pangolin. It was my first time eating it and it tasted great."
The statement said the group was on an organized business trip from July 8 to 10 and all members had only eaten standard buffets.
"No one had dinner alone. The mission returned to Hong Kong on July 10. Calvin Lee Ka-wo chose to stay in Guangxi for a private tour with his friends. That is when the dinner involving pangolin meat occurred. It has nothing to do with the mission," the statement said.
The statement urged Lee Ka-wo to seriously reflect on his misbehavior.
Beijing News quoted an anonymous source from Guangxi Investment Promotion Agency as saying that Lee Ka-wo was a member of the investment mission in 2015.
But the source denied that Bureau Chief Li and Secretary Huang are local officials.
"After this dinner was exposed, we checked the photos and confirmed that none of our staff were seen in the photos," the source told Beijing News. "We also sent the photos to another 14 investment promotion bureaus within the autonomous region to find out who Li and Huang are. The result was that they are not officials or anyone who works for the bureaus."
However, the Guangxi discipline inspection commission said on Wednesday that one government official attended dinner with Lee Ka-wo, adding that the official, Li Ning, from the region's education department, was arrested in May on charges of accepting bribes.
The pangolin dinner was reported to the State Forestry Administration after being exposed online. The regional forestry administration said they have launched an investigation into the issue.
Chinese pangolin is a second-class national protected species, with its consumption strictly prohibited.