National Stadium officially opens roof corridor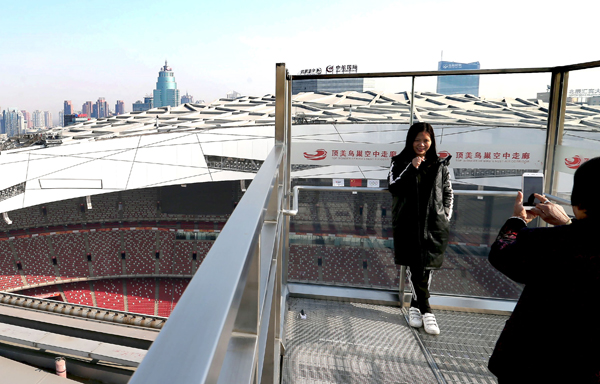 A visitor takes photos on the sightseeing platform of National Stadium's roof corridor on Sunday. [Photo by Wang Zhuangfei/China Daily]
National Stadium, also known as the Bird's Nest, officially opened its roof corridor on Saturday for sightseeing and fitness events.
The stadium, which was built for the 2008 Beijing Summer Olympics, opened the roof corridor during an orienteering competition involving by 40 outdoor sports enthusiasts. Orienteering involves individuals or teams racing to navigate a course and visiting set checkpoints in sequence.
Participants started the race cross-country skiing on man-made snow outside the stadium, before competing in a curling contest on artificial rinks inside and running down the roof corridor to complete the 3.8-kilometer course.
The stainless steel corridor was extended to 1,000 meters from an original 200-meter section built for maintenance purposes and now runs across the roof with a sightseeing platform at the west end. The highest point of the corridor stands 69 meters above the ground.
Steel fences and glass screens have been installed along the corridor for safety, with the stadium's steel beams deemed strong enough for the roof corridor's commercial operation by the China Architecture Design and Research Group, according to the stadium's management company.
"The roof corridor will add to the stadium's lure as a tourist venue and a popular host of fitness events to benefit the public during its post-Olympic operation. We would love to see more events organized here featuring the use of the roof corridor," said Wu Xiaonan, general manager of the stadium.
On top of the stadium, visitors can enjoy a stunning view of the National Aquatics Center, better known as the Water Cube; the Linglong Tower, used for broadcasting during the 2008 Olympics; the dragon-shaped lake in the Olympic Green; and the famous high-rise buildings in north Beijing's downtown area.
While a sightseeing ticket for all locations inside the stadium costs 50 yuan ($7), 80 yuan gives visitors additional access to the roof corridor.
Since October 2008, the stadium has attracted more than 28 million visitors and hosted about 680 events, including sports competitions, exhibitions and entertainment shows.
"We have worked hard on ensuring that the venue is utilized through sustainable use to guarantee its Olympic legacy," said Shi Lei, the stadium's planning manger.
sunxiaochen@chinadaily.com.cn