High-tech additions offer convenience for passengers during chunyun
1. Face recognition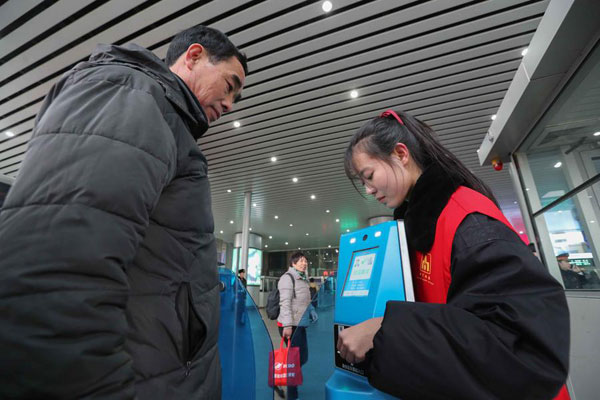 A worker shows a passenger how to use the face recognition machine at the Beijing West Railway Station on Jan 17, 2017. [Photo/Xinhua]
Passengers must remove masks, hats and sunglasses before using the self-service machines to match their faces with ID cards.
According to a manager at Beijing West Railway Station, there have been a few problems due to passengers looking much different from older ID cards.
"Light makeup would not influence the recognition," the manager said. However, he admitted it is unclear whether the machine could recognize people who have undergone plastic surgery.

At the railway stations in Xi'an, capital of Shaanxi province, some passengers were not recognized by the machines because they shaved their heads bald, according to a report by Chinese Business View, a Shaanxi provincial newspaper.
Plastic surgery, makeup and aging have been the typical problems in the biological recognition field, said Xun Yang, an expert in the field. The application of big data and artificial intelligence has eased problem, he said.
Eye wrinkle detectors and voiceprint recognition technologies are used for identifying twins and people who have had major plastic surgery changes, Xun said.