Cultural reflections sculpted from metal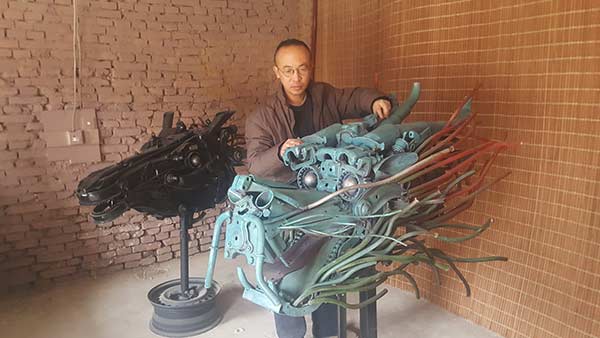 Huang Qicai with one of his favorite works, Dragon Head, at his studio in a southern suburb of Taiyuan, Shanxi province. SUN RUISHENG/CHINA DAILY

Artist works with scrap materials to create unique pieces he thinks of as priceless
At first glance, Huang Qicai's studio in a southern suburb of Taiyuan, Shanxi province, might look to the uninitiated like a recycling workshop, as it is filled with discarded wheel hubs and other types of metallic waste. Yet a closer look reveals a hidden world of art.
The first sculpture to confront visitors is a horse-like creature with its horned head held high. Soon, the heads of other animals swim into view - a chicken, snake and cow, each formed out of scrap metal and measuring more than 1 meter in height.
Huang, an art teacher at Taiyuan University, spends almost all his free time in the workshop creating metal sculptures, seldom leaving to be with his wife and child.
The 40-year-old's passion for his art is rooted in his childhood, when his father worked in a nonferrous metal factory.
"Life was hard then, but with skillful hands, my father made almost all the furniture we needed from the metal waste he collected. He even made me some toys, which really impressed me," he said.
Huang only began experimenting with metal art in 2002, after he contracted severe acute respiratory syndrome while studying at the Central Academy of Fine Arts and was quarantined in Songzhuang, an art community in Beijing's eastern suburbs.
Idling around the village one day, he met a car mechanic named Li Ying who wanted to replace his broken tea table. Huang decided to kill some time by designing a metal tea table for Li.
"Li had the welding skills, I had the creative ideas, so we decided to cooperate and make furniture and other articles with metal waste," he recalled.
Their cooperation proved successful, with a number of buyers searching out the pair's workshop. Not long after, Huang had learned how to weld on his own and began work on an independent creation - an iron water melon made from metal nuts.
With an "out-of-control enthusiasm and inspiration for creation with metal waste", Huang said he made almost 100 sculptures while based in Beijing between 2002 and 2013, though he didn't stay in the capital the entire time. Each piece was given its own name, from Prince on Ice to Peacock Princess and Charge Knight.
Unfortunately, Huang was forced to sell almost all of his works for comparatively low prices as he found himself in financial difficulties.
Homeless Dog, a sculpture he made in 2012 using Swiss sculptor Alberto Giacometti's work as a prototype, is one of the works he regrets selling the most.
"I sold it for 400 yuan ($60). I tried to make a new one but failed. I could hardly get the feel for it," he said.
When Huang was away, his business partner Li sold another of his favorites, the horse-like sculpture Charge Knight.
"On hearing the news, I headed back to Beijing immediately and asked to buy it back for a much higher price. The buyer, however, asked for at least 50,000 yuan and I didn't have that much money," he said.
"I should have bought it back then, as I don't know where it is anymore. You can only come by some materials with luck and the things that I made that sculpture with cannot compare with what I find today."
Despite his seemingly boundless enthusiasm for creating metal sculptures, Huang struggles to make ends meet.
"I make about 4,000 yuan a month from my job as a teacher, but I usually use that money to buy scrap metal for my art," he said.
"I spend more than 60,000 yuan a year on buying waste steel and 15,000 yuan on renting the workshop, let alone expenses."
It's not all doom and gloom, however. A generous patron gave him 30,000 yuan to support his artistic endeavors.
"I will not sell any of them, though I am often visited by buyers interested in my works," Huang said, while gently stroking his sculptures.
Metal sculpting was, for a time, somewhat of a fad in China - first springing up around the turn of the millennium.
But according to Huang, many artists have now quit and those that remain simply replicate well-known works like characters from the Transformers film franchise, as they try to make a fast buck.
For him, metal sculptures should not merely be artworks, they should also convey aspects of the culture they represent and the passing of time. "Phased-out machinery and farm tools such as planters, reapers and threshers are memories of a bygone era. But their life can be extended if we change them into works of art. The benefits of such artistic creation is beyond measure," he said.
Liang Shuang contributed to this story.
Contact the writers at houliqiang@chinadaily.com.cn