Regulation outlines bike-sharing rules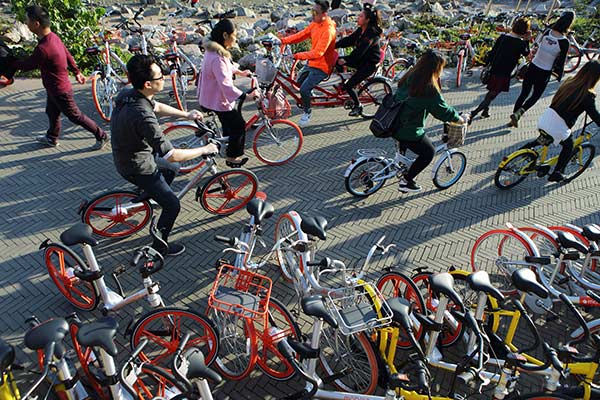 A park crowded by rental bikes in Shenzhen, Guangdong province, on Monday. LAI LI/CHINA DAILY
To standardize the development of the online bike-sharing industry, Shenzen transport commission unveiled a draft plan on Tuesday, defining the responsibilities of citizens, government and service operators.
Shenzhen will release the nation's first regulation on bike sharing, including adding violations such as illegal parking to people's credit record.
Renting bikes through smartphones and parking the mat the users' convenience has grown in popularity. But in addition to offering a convenient option for short-distance traveling, it has also raised issues such as illegal parking.
In Shenzhen, Guangdong province, there are about 120,000 such rental bicycles operated by four companies-Mobike, Ofo, Bluegogo and Xiaomingdanche-and the number is expected to increase to 210,000 by the end of January 2017, according to the city transport commission. Recognizing online bike-sharing as part of the city's transportation system, the authority will integrate cycleways and bike-parking facilities with street renovation.
Illegal parking will result in a fine and be added to personal credit records, with the commission telling China Daily it may use data from bike-sharing service providers.
However, Zhang Kun, an analyst at marketing research firm iResearch, said it is difficult to collect information and such actions seem "harsh".
It is important for service operators to set strict regulations to limit violations such as illegal parking, he said.
Mobike, one of the major operators in Shenzhen, Beijing and Shanghai, said it will promote legal parking according to the government's guidance. The firm uses a score system, which relies on users' reports, and charges those who have been reported as parking bikes illegally more for using its bikes.
The regulation states bike-sharing service providers should cooperate with property managers to set up parking zones in private areas.
According to a report in Nanfang Metropolis Daily on Monday, a residential real estate company in Nanshan district locked up about 200 rental bikes that occupied its entrance, demanding 20,000 yuan ($2,875) in compensation from a bike-sharing service operator, which refused to pay.
A separate draft released Tuesday stated that there should be at least be 1.5 meters for pedestrians to walk past parked bikes on sidewalks.
Zhang said he believes other cities will also release regulations soon.