China's fastest subway starts construction in Beijing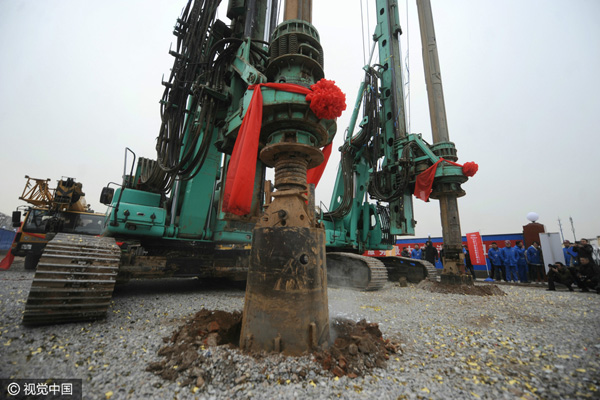 Beijing's new airport subway line begins construction on Monday. [Photo/VCG]
Beijing's new airport subway line, which will become the fastest subway train in China, began construction on Monday, Beijing Daily reported.
The 41.36-kilometer subway line is expected to be ready for operation in September 2019. The new line will include three stations and will connect the Beijing Daxing International Airport, which is currently under construction, and Caoqiao subway station near Beijing's south third ring road.
Compared to the current travel speed of most subway trains in Beijing, which is 33 to 35 km per hour, "the designed speed of the subway train on the new line is 160 km per hour, and the travel speed reaches 110 km per hour," said a director at the Beijing MTR Construction Administration Corporation.
The entire journey will take just 19 minutes, which includes the train's running time and station dwelling time.
Caoqiao station, a transfer station that will connect four subway lines in the future, will be built into an airport terminal for passengers to manage check-in procedures.
The station has a passenger flow volume of 20 million a year, and the efficiency of check-in procedures will be equivalent to that of terminals at the airport.
The Cigezhuang station and the North Airport Terminal station will connect inter-city railways to coordinate the traffic of the Beijing-Tianjin-Hebei area.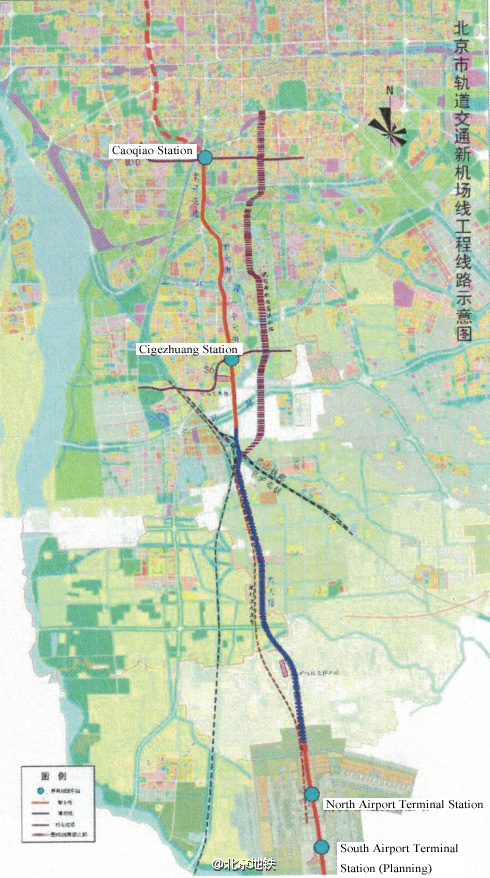 A map of Beijing's new airport subway line. [Photo/Sina Weibo]