Officials rated on ecological progress
Assessments of government performance tied to binding targets set out in 13th Five-Year Plan
China will begin annual evaluations of the ecological progress made by provincial, city and county governments starting in 2017, which will facilitate policymakers' pursuit of green growth.
The evaluations will be based on green growth targets, including resource utilization, environmental quality and public satisfaction, and should be finished by the end of August.
They will be conducted jointly by ministerial level authorities mainly from statistics, economic planning, environmental protection and personnel.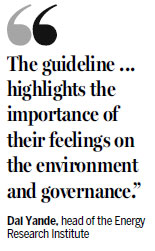 An additional five-year assessment will focus on binding targets in the 13th Five-Year Plan (2016-20), the overall road map for society, economy and environment.
If governments don't reach three or more binding targets, they will fail the assessment, said Wang Yi, deputy head of the Chinese Academy of Sciences' Institute of Science and Development.
Leaders of governments that fail the assessment will be held accountable and required to solve relevant issues, the guideline said.
The guideline shows the country is connecting ecological development to the evaluation of official's performances, which will put more focus on environmental protection, Wang said.
"It's an innovative step to combine the annual evaluation and an assessment every five years, which have different focuses," he said.
The guideline is expected to motivate policymakers and improve the environment, researchers said.
Wang Jinnan, chief engineer of the Chinese Academy for Environmental Planning, suggested the implementation of the guideline and other major supplementary policies such as the environmental inspection system, and an audit of natural resource assets, "will work better in promoting ecological progress".
The public will also play a bigger role, as their satisfaction will affect the official's annual evaluation, and they are invited to monitor the assessment results.
"The guideline has put the people at the center, which highlights the importance of their feelings on the environment and governance, thus making the results of annual and five-year evaluations more reliable and useful," said Dai Yande, head of the National Development and Reform Commission's Energy Research Institute.
zhengjinran@chinadaily.com.cn