Wrongfully convicted men declared innocent, freed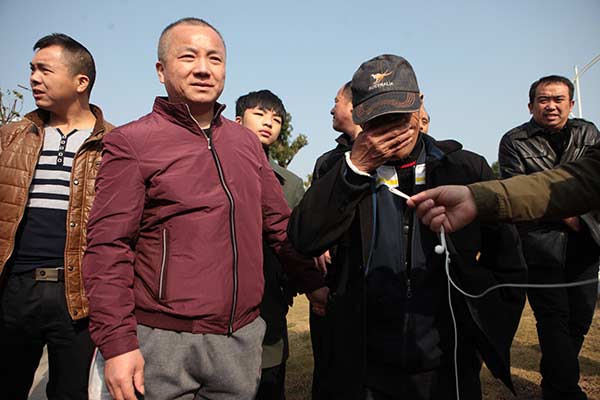 Huang Zhiqiang (second from left), one of the four people who were sentenced to death for homicide, robbery and rape 13 years ago, speaks to the media as his father is overcome with emotion after the four were declared innocent in Nanchang, Jiangxi province, on Thursday.Wang Jianing / For China Daily
Jiangxi High Court found that the facts of the case were unclear and evidence was insufficient
After staying behind bars for more than a decade for homicide, four men in Jiangxi province were declared innocent on Thursday, the latest case of a wrongful conviction being corrected in the country.
The Jiangxi High People's Court withdrew all previous verdicts on Huang Zhiqiang, Fang Chunping, Cheng Fagen and Cheng Lihe as the court found the facts of the case were unclear and evidence was insufficient.
The court also said in a statement that the four might have been forced or tricked into making confessions, which resulted in the previous verdicts.
The four were sentenced to death at a local court in Jingdezhen, Jiangxi province, in July 2003 in connection with the murder of a man, as well as the rape, murder and dismemberment of a woman.
They appealed, and the Jiangxi High People's Court in May 2006 changed the punishment to death with a two-year reprieve, a sentence usually commuted to life in jail. The latest retrial was conducted on Nov 30 after repeated appeals from their families.
After the final verdict, Xia Keqin, deputy head of the court, made a face-to-face apology to the four men and informed them of their right to claim State compensation.
Zhang Weiyu, the lawyer representing Fang, said the four were released on Thursday and united with their families.
A court statement released after the verdict said: "As a judicial organ, courts should learn a lesson from the case."
The concept of protecting human rights should be enhanced, the principle of evidence should be upheld, checks and balances should be strengthened among judiciary departments, and a quick response and correction of wrong rulings should be carried out, it said.
Liu Weidong, deputy head of the Jiangxi Lawyers Association, said the overturning of the case will facilitate judicial progress across the nation and reinforce the credibility and authority of judicial departments.
"The protection of human rights should be prioritized in the process of clamping down on crimes," he said.
The authenticity, correlation and legitimacy of evidence are the key to a court ruling, Liu said, adding that no doubtful evidence should be used in a ruling, nor should a verdict be made without solid evidence.
Chinese media reported that the original ruling cited a police probe that said the four had confessed to the crime, but the men later said they were tortured into confessing.
In the latest retrial, the court ruled that based on new evidence, including forensic examinations, the confessions lacked legitimate grounds.
On Dec 2, the Supreme People's Court, the top court, exonerated Nie Shubin, a young man from North China's Hebei province, who was wrongfully executed 21 years ago for rape and murder.
zhang_yi@chinadaily.com.cn