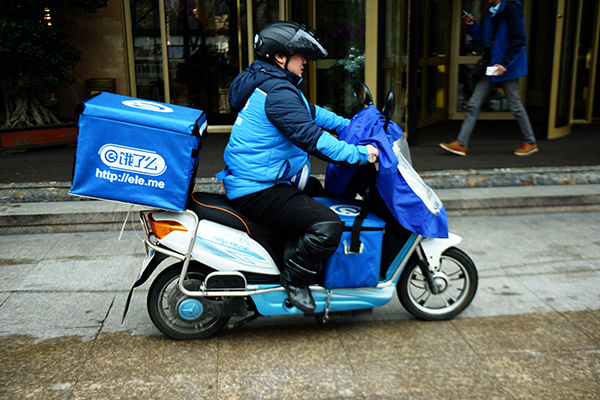 A delivery man for Ele.me in Hangzhou, capital of Zhejiang province. [Photo/China Daily]
Online food delivery service ele.me is facing fines and an investigation by Shanghai's food and drug watchdog following a state media expose on Tuesday showing unlicensed vendors have been selling food through its mobile app.
The Shanghai-based online food delivery start-up was among a group of companies named and shamed on state broadcaster CCTV's annual World Consumer Rights Day program.
The Shanghai Municipal Food and Drug Administration said on Wednesday that it launched a probe into the start-up in November over suspicions that it allowed unqualified food vendors to operate via the app.
The watchdog issued a fine of 120,000 yuan (around $18,408) and announced a new investigation into the problems revealed in Tuesday's expose.
The report revealed ele.me's lax efforts in screening vendors seeking to sell food via the app. Ele.me's failure to ensure sellers have proper certifications and licenses has created potential health hazards for consumers.
China's new food safety law, effective since October, requires online food sales and delivery platforms to register vendors under their real names and review their qualifications.
Some vendors on ele.me that advertise themselves as clean, modern restaurants are in fact nothing more than small, dingy kitchens without proper food licenses.
Although e-commerce is one of the few bright spots in China's slowing economy, online services are coming under increasing scrutiny from media and regulators as existing regulatory frameworks have proved less than effective in supervising new business activities.