Observers said Washington has "not demonstrated adequate sincerity" on calls to restart stalled Sino-US working-level talks on cybersecurity as sensational accusations against China continue to pour in.
The comments came on Thursday as Beijing criticized a US media report that accused China of cyberespionage against Washington.
Washington has hit Beijing in the past few months with a series of accusations, including one from the US Department of Justice in mid-May against five Chinese military personnel regarding their so-called spying on business secrets.
In its Wednesday edition, The New York Times said Chinese hackers had broken into US government networks and stolen top-secret information.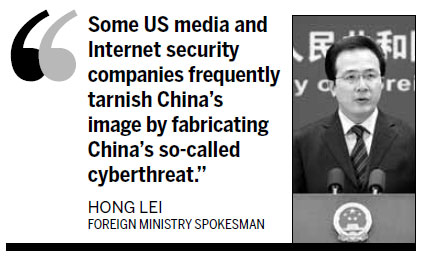 "Some US media and Internet security companies frequently tarnish China's image by fabricating China's so-called cyberthreat," Foreign Ministry spokesman Hong Lei said on Thursday. US media "are actually not able to produce tangible evidence. Such reports and comments are irresponsible, and there is no need to refute them," Hong said.
The day after Washington made the accusations against the five Chinese officers in May, Beijing announced a halt to the Sino-US working group on cyberwork. The talks, once a component of Sino-US Strategic and Economic Dialogue, convened for the first time in July last year, were taken off the agenda during this round of dialogue, held in Beijing, Reuters reported.
Zuo Xiaodong, vice-president of the China Electronic Information Security Research Institute, said, "What the US has done recently shows it has no intention to correct its mistakes."
Although Washington has appealed for resuming the cyberaffairs talks, "positive signals have not been sent", and "it is unlikely to see the talks resume in the near future", said Zuo, a witness of the previous working group talks.
zhangyunbi@chinadaily.com.cn