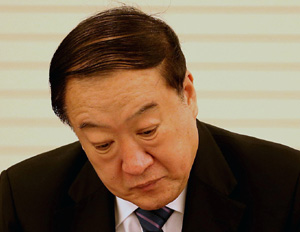 Su Rong, CPPCC vice-chairman
China's top anti-graft watchdog announced a
corruption
investigation of a senior political adviser on Saturday.
Su Rong, vice-chairman of the Chinese People's Political Consultative Conference National Committee, is being probed for suspected grave violation of discipline and the law, according to a statement on the website of the Central Commission for Discipline Inspection of the Communist Party of China.
The anti-graft watchdog gave no further details about the investigation.
Su, 66, a vice-State level official, is the highest ranking among all the probed officials since the CPC elected its new leadership in November 2012. A total of 27 ministerial level officials have been probed since then. Vice-State level is higher than ministerial level and lower than State level.
The CPPCC National Committee is the country's top political advisory organ. There are 23 vice-chairmen, including Su.
On Tuesday, Su attended a trade fair ceremony in Northwest China's Qinghai province during a three-day inspection tour to the earthquake-hit region in Yushu city. It was his last public appearance before the investigation.
Before getting his current post in March last year, Su had been Party chief of East China's Jiangxi province for six years, since 2007. Earlier, he was Party chief of Qinghai province from 2001 to 2003 and Party chief of Gansu province from 2003 to 2006.
It remains unclear whether the allegations against Su are related to his previous work in Jiangxi province, where three senior ministerial-level officials have been investigated in recent months.
Zhao Zhiyong, a member of the Standing Committee of the CPC Jiangxi Provincial Committee, was sacked by the CPC Central Committee on corruption allegations, the top anti-graft watchdog announced on June 3.
On March 22, Yao Mugen, vice-governor of Jiangxi province who was in charge of multiple departments, was announced to be under investigation. Chen Anzhong, former deputy director of the standing committee of Jiangxi Provincial People's Congress, was expelled from the Party organization and public office for suspected violations of discipline and the law on May 20.
The top anti-graft watchdog dispatched an inspection team to Jiangxi province in May last year to collect whistleblowers' tips regarding local officials' misbehavior. The inspectors were told that Su's wife was allegedly involved in corrupt activities in the land trade and construction projects in Xinyu city of Jiangxi, according to a report on caixin.com.
The report said Su retaliated against Yao Minjian, the whistleblower who is the ex-wife of Zhou Jianhua, former director of the standing committee of Xinyu City People's Congress, for accusing Su to the anti-graft authorities.
anbaijie@chinadaily.com.cn