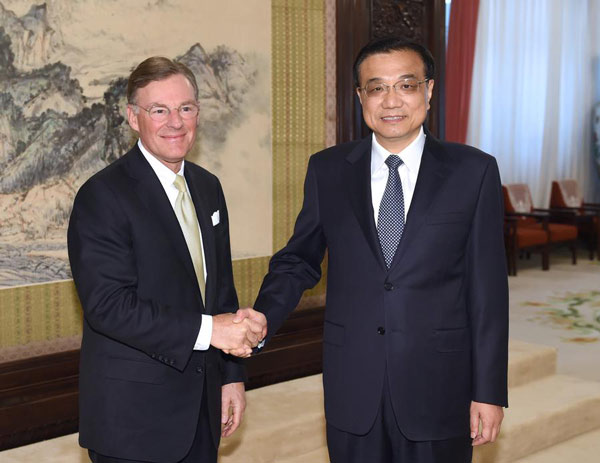 Chinese Premier Li Keqiang (R) shakes hands with Harold McGraw III, Chairman of International Chamber of Commerce (ICC), during their meeting in Beijing, capital of China, May 15, 2014. [Photo/Xinhua]
Foreign enterprises enjoy vast room for development in China as the increasingly open country treats them on a par with domestic ones, Premier Li Keqiang said on Thursday.
China is deepening reform and opening-up, and it provides an equal and fair environment for both Chinese and foreign enterprises, Li told the visiting chairman of the International Chamber of Commerce, Harold McGraw III.
The remarks signaled China's willingness to get more involved in the global economy, equally and actively, amid signs of weakening economic activity in April and Beijing's ramped-up efforts to shore up growth, observers said.
Li said China opposes protectionism in trade and investment, calling for the Paris-based ICC, the largest global business organization, to listen more to voices from industrial and commercial circles in China on major economic and trading issues.
Since joining the ICC two decades ago, China introduced a number of regulations and conventions relating to finance and trade. These have helped to improve China's business environment and internationalize Chinese enterprises, Li said.
Established in 1919, the organization has millions of member companies in more than 180 countries with interests spanning every sector of commerce. It has the authority to make rules governing the conduct of business across borders.
McGraw hailed China's contribution to the global economy and rising employment, saying the organization would like to strengthen cooperation with China, expand the scale of worldwide trade and investment and maintain a multilateral trading system.
Foreign direct investment into China increased 5.5 percent in the first three months of 2014 as confidence in the country's growth potential picked up. But concerns remain as Beijing announced first-quarter GDP growth of 7.4 percent, the slowest expansion in 18 months.
Zhu Caihua, dean of the School of International Economy at China Foreign Affairs University, said that as the Chinese economy, the world's second-largest, has developed to today's scale and level of internationalization, the government has tended to reduce interference and let domestic and foreign enterprises compete on a level playing field.
This may mean fewer preferential policies for foreign investors, but it is not a degradation of the investment environment. It's an inevitable trend for enterprises, no matter where are they from, to compete on their own merits, Zhu said.
Before meeting with Li, McGraw attended the China Import Expo in Kunshan, Jiangsu province, on Wednesday.