Li vows to protect rights of Chinese working abroad
Updated: 2014-05-10 07:28
By Zhao Yinan in Luanda, Angola (China Daily)
Comments
Print
Mail
Large
Medium
Small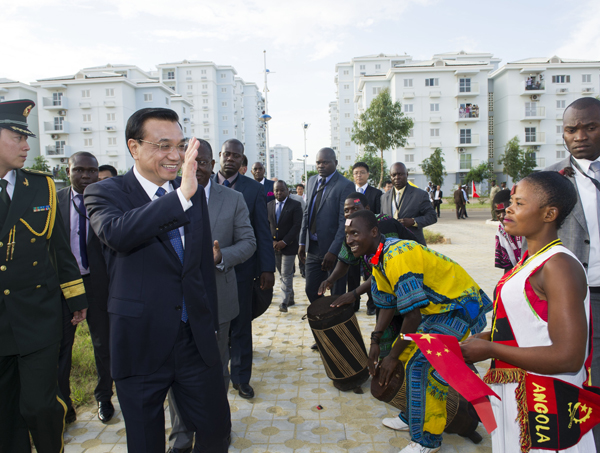 Premier Li Keqiang is greeted by African students at a vocational school in Luanda, the capital of Angola, on Thursday. Wang Ye / Xinhua
When the jetliner carrying Premier Li Keqiang and his Chinese delegation arrived in Luanda, capital of Angola, Li did not head straight to the hotel, nor did he join an official group meeting with state leaders.
Passing through crowded, slum-ridden areas of the capital, Li's first stop on his two-day visit to the oil-rich country was a symposium on living conditions of overseas Chinese.
Shop signs in Chinese characters flashed by on the way to the venue. In fact, Angola has the largest Chinese population on the continent - about 260,000 people, or more than one-fourth of all the Chinese in Africa.
At the session, Li linked the wave of overseas Chinese with China's opening-up and pledged to focus on safeguarding the rights of China's companies and residents abroad.
He said the more that Chinese reach out to the world, the more misunderstandings and danger they will encounter. But he added that "such difficulties shall not be an obstacle to further opening-up".
"The government will put more effort into protecting overseas Chinese. Wherever our compatriots go, consular protection will follow," he said.
Li vowed to set up a global emergency call center by the end of this year to aid overseas Chinese seeking consular protection.
Before coming to Angola, the premier's debut visit to Africa also took him to Nigeria, where mass kidnappings and serial terrorist attacks occurred ahead of his visit.
"But I did not change my scheduled visit to the country, largely for the sake of the overseas Chinese," Li said.
"If we had changed the schedule, what would that say to the overseas Chinese in Nigeria?" he asked.
The job of protecting overseas citizens is a serious one, Li said. The number of outbound Chinese is expected to exceed 100 million this year, and the number of companies based in foreign countries stands at more than 20,000. Over 40,000 consular cases are dealt with each year around the globe, and the number is climbing.
Zhou Xiaoguo, an employee at Sinohydro Corp Ltd, was invited to the symposium after leaving a message on the Chinese government's official website saying he hoped to meet the premier during Li's visit to Angola. "I didn't expect I could actually meet him and have a chance to sit down and talk with him just half a month later," he said after the symposium.
Zhou suggested that the government and companies encourage employees to build long-term career plans, in a bid to reduce shortsighted behavior that may dampen both commercial cooperation and people-to-people relations between overseas Chinese and locals.
Liu Guigen, a general manager of the African section of CITIC Construction Co Ltd, said the security of workers is a priority for Chinese companies overseas, and that each of the company's construction sites of his company "has dedicated itself to warding off danger".
Zhao Hongbing, general secretary of the Association of Chinese Residents in Angola, said promoting Angolan laws is necessary as some disputes are due to misunderstandings about the local culture and a lack of knowledge about Angolan jurisprudence.
zhaoyinan@chinadaily.com.cn
Related:
Chinese premier arrives in Angola for visit
China, Angola to deepen economic ties: minister
Mandarin key for Angolan's ambitions