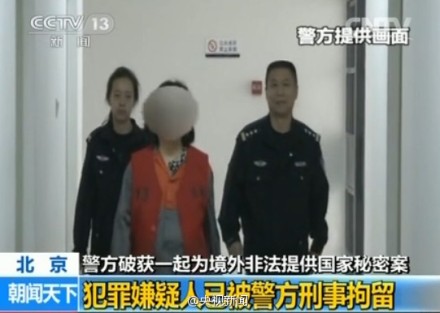 A screen grab of CCTV News reports on Thursday showing Gao Yu being escorted by Beijing police.
BEIJING -- A female suspect named Gao Yu was detained for leaking "state secrets" to foreign contacts, said Beijing police on Thursday.
Gao, 70, a Beijing resident and former journalist, was suspected of illegally obtaining a highly confidential document of Chinese central government and sending it to an overseas website in June last year, which later became widely circulated on foreign websites,said the police statement.
Gao confessed to acquiring a copy of the document through various contacts. She said she then typed it into a digital version, before sending it to the managers of the foreign website.
Saying she was willing to accept legal punishment, Gao said she recognized her mistakes and that her crimes went against the national interest and violated Chinese law.
Gao was sentenced to six years in prison on November 10, 1994, for illegally providing state secrets to institutions outside China in four articles in Mirror Monthly and Overseas Chinese Daily.She was released on February 15, 1999 on medical parole.
The case is still under investigation.