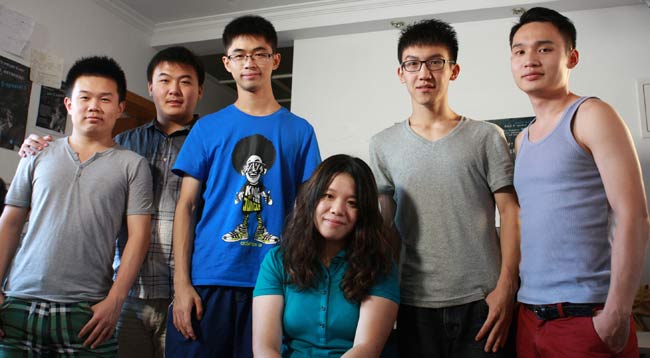 Liu Xianran (third left), Tsinghua University graduate and 22-year-old business owner, takes a group photo with his team. Liu is one of China's younger generation looking to make fortunes from the booming Internet industry. WANG ZHUANGFEI / CHINA DAILY
Related video: Brainpower under 25
Young Chinese entrepreneurs are tapping opportunities from the Internet to realize their world-changing dreams, reports Peng Yining in Beijing.
Valuable lessons from Silicon Valley
The 10-day trip to California's Silicon Valley was a mind-blowing experience for Liu Xianran, the 22-year-old founder of an Internet company in Beijing.
"Everyone was asking me about my business idea and talking about theirs," Liu said.
"They were so confident and passionate. Everyone believes that having their own business is the coolest way to live and the best way to realize the value of life."
In May, as part of an exchange program of Tsinghua University, Liu visited companies and business incubators in Silicon Valley, home to many of the world's largest technology corporations and the high-tech hub of the US.
Liu said that back in China, the entrepreneurial life is notoriously filled with risks, stress and sacrifices.
"Many of my schoolmates just wasted their four years in college playing video games and sleeping because they didn't know and never thought about what they really wanted," he said. "And I hated that."
During the US trip, Liu met a lot of talented young people who were full of great ideas and eager to contribute to the world.
"All they talked about was having their own business and living a meaningful life. Their words were still echoing in my mind after I came back," he said. "It was almost like a brainwash, but in a good way."
In his first year in college, Wang Xiangyu was able to make more than 60,000 yuan a month by selling shoes online. But Wang, 22, said he wanted to do something bigger, a business that could make changes to the world.
Before Wang started his second year in college, he made a trip to the Massachusetts Institute of Technology in the US and was impressed by the creativity of its students and how much technology had changed society.
After the trip, Wang took a gap year and started to work on a new business plan on selling food online. His plan won Jiangsu province's entrepreneurship competition and he got a chance to pitch his idea to investors in Silicon Valley.
"The environment of entrepreneurship in the Valley was fascinating," he said.
"Everyone I met in the Valley, from teenage tech geniuses to college professors, believes their idea could affect the world. They work very hard and enjoy the failures and hardships as well as the accomplishments. But back in China, we usually struggle to survive."
Lu Wei, co-founder of Magic Entrepreneur College, a business training agency for owners of startups, said the culture of Silicon Valley has global impact and inspired numerous Chinese entrepreneurs.
"Silicon Valley has too many role models and legends. China has been learning from them for a long time," he said. "But now we have the world's largest group of netizens and smartphone users, and the Internet industry is rapidly growing in China. We will one day have our own culture and legends."
Zhang Yichi, professor at the Guanghua School of Management of Peking University, said he supports young people to create their own jobs, as entrepreneurship does not only benefit business owners, but also helps to build the culture of risk taking and creativity.
"There is a huge cultural gap between China and the US. Generally, US society encourages people to try, to be creative, and is more tolerant of failure. Chinese culture respects tradition and encourages obedience, which might not be a good environment for innovation," Zhang said.
Zhang said he is usually amazed by the creativity of his students, who display more entrepreneurial characteristics than any other generation.
"I teach them but I also learn from them. They can be proud and self-centered but also brave, passionate and independent," he said.
"I am very optimistic of the future of these young Chinese entrepreneurs. Their businesses might fail, but they might be able to change Chinese culture, or at least bring some fresh air to tradition."
When China was first connected to the Internet in 1994, Liu Xianran was 2.
At the age of 8, Liu had his first computer and was fascinated with cyberspace as he played computer games.
Now the 22-year-old wants to earn his first pot of gold in China's booming Internet business and, maybe, change the world.
When Liu, who majored in chemical engineering, graduated recently from the elite Tsinghua University, he gave up offers of well-paid jobs from consulting firms and developed an education smartphone application with his schoolmates in a rented apartment in Beijing.
"If I took the offers, I would be earning more than a million yuan annually in five years. But my dream is bigger than being a millionaire," Liu said.
"I want to make our world a better place by doing what I am interested in and make a fortune."
The Internet has given Chinese in their 20s like Liu great opportunities to start their own business and strike it rich, said Zhang Yichi, professor at Guanghua School of Management of Peking University and director of the school's Center for Innovation and Entrepreneurship.
Thanks to the Internet, there are fewer upfront costs for young business owners, Zhang said.
Unlike traditional industries, Internet companies can build websites, host conference calls and launch online marketing campaigns, all on a shoestring budget.
Open-source software can also reduce or eliminate the need for consultants and tech support.
"For people who are under 25, it is the golden age to start their own business," Zhang said.
"They have the opportunity and character that other generations don't have."
It cost Liu less than 100,000 yuan to found his first company. Most of the money was spent on renting the two-bedroom apartment where Liu and his team live and work.
The sole female team member takes up one bedroom while Liu and three other men take the other one. Two of the men use a bunk bed and the 22-year-old CEO shares a double bed with another member.
Laptops and power cables take over the 10-square-meter living room, which they call an office. Posters of their smartphone app, colorful notes of ideas and take-out menus are pasted all over the walls.
The team's English-learning app enables users to upload their English speaking samples through their smartphones and receive feedback from native English-speaking teachers to improve their spoken English.
Two weeks after the app was put online, the system nearly crashed because too many users got on board.
Liu said learning the language from native English speakers used to be time-consuming and expensive. People who live in rural areas never get a chance to see a foreigner, not to mention learn from them.
"The Internet is breaking down the barriers," Liu said. "I am not tech savvy. I had my first iPhone in 2012. But I have to know the Internet, everyone has to know it. It is the future."
China now boasts 3.2 million websites. The number of Chinese netizens has grown to 618 million, and 500 million of them are surfing online with their smartphones, according to a report in December 2013 by the China Internet Network Information Center.
Born in 1993, Wang Yue said he grew up hearing about the success stories of Internet tycoons. This year, the sophomore at Peking University launched a long-distance education website and quickly attracted more than a million yuan in investment.
In high school, Wang made money by giving lectures to junior schoolmates on taking tests. In the first year in Peking University, he bought watermelons from the market at 1.2 yuan a kilogram and sold them on campus for 2 yuan a kg
"But all those businesses were small and, most important, not cool," Wang said.
For the 21-year-old, Google, Tesla Motors, and Steve Jobs, the legendary co-founder and CEO of Apple, are "cool".
Wang, two co-founders, and eight employees, all undergraduates at Peking University, are "part-time studying and full-time working" in a rented apartment in Beijing's Zhongguancun, China's equivalent of Silicon Valley.
Wearing jeans and tapping on a laptop, Wang said he hopes his office can one day feature a slide and free snack bar like Google.
Besides the lower upfront costs, the Internet also means fast growth and making fortunes in a short time.
"We measure time with hours," said the fast-talking CEO. "We insanely pursue efficiency."
Wang said if a glitch appeared at 4 am, they would notice it before 4:10 am and solve the problem by 5 am.
"We don't want to build a company over 20 years," he said. "It's not our style."
As China has achieved great economic progress, people who are under 25 mostly grow up in an environment that is financially secure.
A stable salary, insurance, academic certificate and hukou, or household registration, things which are important for people who were born before 1990, are not so important for members of the younger generation.
"For people who were born after 1990, the most important thing is to have fun; the second would be to have something with meaning," Wang said.
"The Internet brings with it the spirit of being free and independent. For people who speak digital as their first language, we were born with those characteristics."
The Internet industry is crammed with examples of CEOs who dropped out of school and were barely out of their teens when they got on the IT route to success - Microsoft's Bill Gates and Facebook's Mark Zuckerberg come to mind.
Yang Baotong, 23, said he was so excited after watching The Social Network, a movie about Zuckerberg, that he wanted to start up a company immediately.
This year, Yang and Luo Yun, who dropped out of college, founded a mobile game company.
Because of the lack of investment, Luo once resorted to an online post to find a part-time job so that he could earn money for his meals.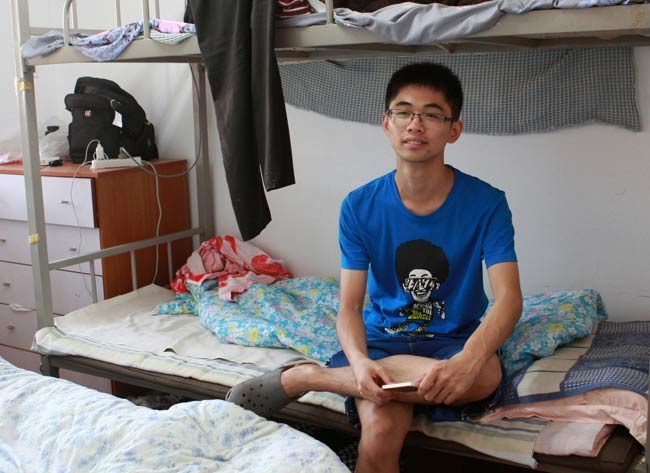 Liu Xianran, who just started his business, lives in a rented apartment with his team near Tsinghua University. WANG ZHUANGFEI / CHINA DAILY