Nation will need to rebuild image after MH370 incident, experts say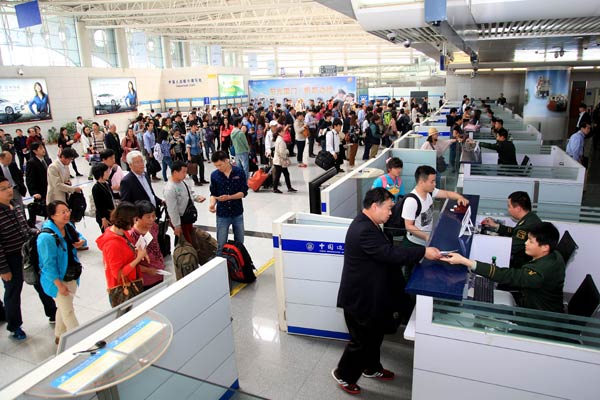 Outbound tourist groups wait to pass through a security checkpoint at Qingdao airport on Wednesday. Xie Hao / for China Daily
The disappearance of Malaysia Airlines Flight MH370 has led to a decline in the number of Chinese tourists to Malaysia during the May Day holiday, the China National Tourism Administration said.
Many travel agencies have changed the once popular "Singapore-Malaysia-Thailand" itinerary to a "Singapore-Vietnam-Thailand" one due to the negative impression of the Southeast Asian country from the Flight MH370 incident, the administration said.
It did not provide figures or further details but said many travel companies have also canceled group trips to Malaysia.
Flight MH370 vanished on March 8 en route from Kuala Lumpur to Beijing. The Boeing 777 had 239 people on board, including 154 Chinese passengers. A multinational search for the plane in the southern Indian Ocean has found no trace of the aircraft.
Members of the Chinese public and families of passengers on MH370 have criticized Malaysian authorities' handling of the incident, citing a lack of information and initial delays in providing it, among other issues.
Yang Jinsong, a China Tourism Academy professor, said the slowdown in Chinese travel will seriously hurt Malaysia's tourism industry and may continue for years.
"Chinese are one of the major groups of tourists for the country, and the negative impression will have serious consequences," he said.
"Some agencies have had to cancel group trips to Malaysia for fear of the negative sentiment."
Restoring Malaysia's image will take a long time, Yang said.
Wang Yujie, who was considering traveling to Malaysia this year with his family, said he no longer will consider going to "the destination of lies".
"I don't trust their airlines or the whole country anymore," Wang said. "Moreover, it's like going against everyone in the country if you travel there."
The Chinese tourism administration said the country's travel market experienced another boom during the May Day break over the weekend as many Chinese went on trips outside the mainland for a few days. Popular destinations included Taiwan, Hong Kong, South Korea, Bali and Japan.
Fujian, Hainan and Yunnan provinces were among the most favorite domestic destinations, and an increasing number of people made roadtrips with their cars, it said.
Beijing had 5.5 million visitors during the period, and Tianjin attracted 2 million tourists, a year-on-year increase of 16.4 percent.
zhengxin@chinadaily.com.cn