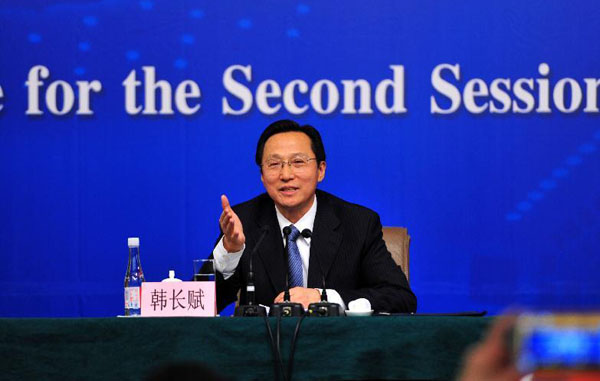 Agriculture Minister Han Changfu speaks at a press conference during the second session of the National People's Congress in Beijing, March 6, 2014. [Photo/Xinhua]
Agriculture Minister Han Changfu told a press conference at the second session of the National People's Congress on Thursday that he eats genetically modified (GM) food, mainly soybean oil.
He said that although Chinese transgenic research lags behind that of developed countries, international advanced level has been reached in some fields, such as genetically modified cotton which has a 95 percent share of the domestic market.
It effectively controls bollworm damage and reduces the application of pesticides, ensuring the development of the cotton industry and farmers' incomes.
Han said that China has established laws and regulations which cover transgenic research, production, processing, marketing and import licensing as well as mandatory product identification.
"Transgenic technology is a new concept to many people so it's understandable that some are worried about it. It needs time for people to get to know and accept it," he said.