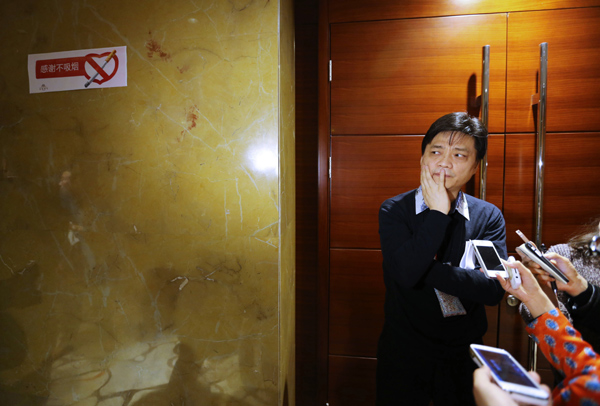 Cui Yongyuan, a CPPCC member, stands near a sign that reads "Thanks for not smoking," as he waits to be interviewed. [Jiang Dong/China Daily]
Anti-tobacco effort starts from top, Shan Juan reports in Beijing.
Huang Jiefu says he will stop anyone from smoking inside venues for the two sessions, the annual meetings of the National People's Congress and the National Committee of the Chinese People's Political Consultative Conference.
"I will definitely ask them to stop," said Huang, a CPPCC member.
"In fact, I don't even have to ask them to stop. Instead, I will tell them that I am the president of the Chinese Association on Tobacco Control," he said.
In February, the association and seven other non-governmental organizations wrote to organizers of the two sessions, calling for a smoke-free environment for the deputies and delegates.
They also suggested that the ban should not only apply to smoking indoors, but to open areas used as access points by large numbers of people.
In addition, they asked that smoking-related utensils, such as ashtrays, be removed from the venues and that tobacco companies should not be allowed to give cigarettes as gifts to deputies and political advisers.
In response, the CPPCC's Bureau of Letters and Calls promised to integrate the smoke-free concept into the "new meeting" ethos it is attempting to foster this year.
"That's promising and very positive feedback," said Huang, who added that controls on smoking should not be too heavy-handed.
"Of course, smokers can smoke in the designated areas, but non-smokers have the right not to be harmed by secondhand smoking," he said.
Shin Young-soo, the World Health Organization's regional director for the Western Pacific, urged stronger steps to combat tobacco-related illnesses, both now and in the future. "It's about life and death," he said.
China, the world's largest tobacco producer and consumer, has more than 300 million smokers, or 28 per cent of the adult population, according to WHO estimates. The country sees more than 1 million tobacco-related deaths per year, while passive smoking kills around 100,000 people annually.