China embraces first Seniors' Day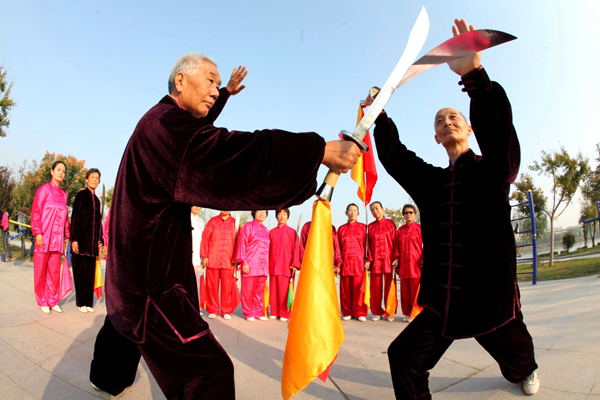 Elderly people exercise at a park in Bozhou, East China's Anhui province, Oct 13, 2013. [Photo/Asianewsphoto]
About 5 percent of the senior population have depression, about 5 percent seniors suffer from anxiety and about 44 percent of the elderly have insomnia, said Liu. "Seniors who came to Shenyang Mental Health Center to consult average 10,000 every year," he said.
Liu said that the psychological disease was caused superficially by illness and pain but more deeply it was caused by lack of care from family and society.
"There is cafeteria, barbershop and community center designed for seniors in my community," said Huai Jukui, a retired citizen of Beijing. Huai enjoyed his life, with a monthly pension of 5,500 yuan and medical insurance.
"But the best time for me is when I get to dine with my children and talk with them," said Huai.
For those who live in nursing homes, and whose children all left home for work, finding someone to talk with is what they need most, said a staff member at a nursing home in Yinchuan, capital city of northwest China's Ningxia Hui Autonomous Region.
"Many volunteers come to the nursing home and say they want to help  on the Seniors' Day," said the staff, "but they don't know what the elderly need most."
The Seniors' Day should not be a mere formality, and care for the elderly should be in every day, said the staff.
Seniors do not only need services, but family affection and care. The society needs to learn how to provide better care for them. For they are the future of each one of us, said Chen Shouchun, an aging industry expert.

Editor's picks

Copyright 1995 - . All rights reserved. The content (including but not limited to text, photo, multimedia information, etc) published in this site belongs to China Daily Information Co (CDIC). Without written authorization from CDIC, such content shall not be republished or used in any form. Note: Browsers with 1024*768 or higher resolution are suggested for this site.
Registration Number: 130349