China embraces first Seniors' Day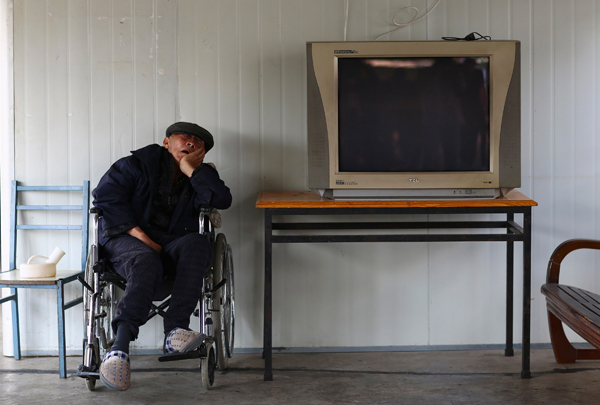 A man sleeps on a wheelchair next to a television set at a nursing home on the Double Ninth Festival, or Chongyang Festival, in Kunming, Southwest China's Yunnan province, Oct 13, 2013. The Chinese honour their elderly during the festival, which falls on the 9th day of the 9th month in the Chinese lunar calendar. [Photo/Agencies]
BEIJING - China celebrated its first national Seniors' Day on Sunday.
The Chinese government has made the ninth day of the ninth lunar month, the Double Ninth Festival, a day to honor senior citizens since 1989, but this year's Seniors' Day is the first time the holiday has been observed since it was written into the revised law on protection of the rights and interests of the elderly.
In Beijing, Yan Futian, 76. enjoyed the day which gave him a one-off chance to visit the 9th China International Garden Expo with a free pick-up from his home.
Beijing has a population of more than 20 million, of which about a fifth are above the age of 60. About 400 people in Beijing celebrate their 60th birthday every day.
"From now on, in Beijing, newly built residential areas should contain aged care facilities," said deputy mayor of Beijing, Dai Junliang. "Enterprises to provide aged care services will have preferential policies and tax breaks," he added.
Although Beijing allocates more than 5 billion yuan annually for the care for elderly, the annual increase of 150,000 seniors is a challenge for the municipal government.
"We need the whole of society's help to provide better care for aged people," Dai said.
The reality of Beijing is a microcosm of China. China's population above age 60 reached 194 million at the end of last year, and China is the only country in the world with a senior population of more than 100 million. The figure is expected to exceed 300 million by 2025.
Without proper care from their children or society, more and more seniors in China are encountering psychological problems, including depression, anxiety and insomnia.
On Saturday, a 70-year-old woman from Shengyang city, capital of Liaoning Province committed suicide by jumping from her third-floor window.
According to her neighbors, the lady had been depressed for years. The day before she jumped, she cried out, "Fire, fire!" in her apartment. But when neighbors rushed to help her, they found no fire.
"It demands the attention of the whole of society," said Liu Changhui, a psychologist of Shenyang Mental Health Center.

Editor's picks

Copyright 1995 - . All rights reserved. The content (including but not limited to text, photo, multimedia information, etc) published in this site belongs to China Daily Information Co (CDIC). Without written authorization from CDIC, such content shall not be republished or used in any form. Note: Browsers with 1024*768 or higher resolution are suggested for this site.
Registration Number: 130349