Dream, sweet dream
The Chinese Preventive Medicine Association's Internet survey identified a lack of deep sleep as the main cause for low-quality sleep.
Both of the medical associations warn that using a computer or cell phone before sleep not only prevents one from falling asleep but also affects the overall sleep quality because the artificial lights stimulate optic nerves and the brain.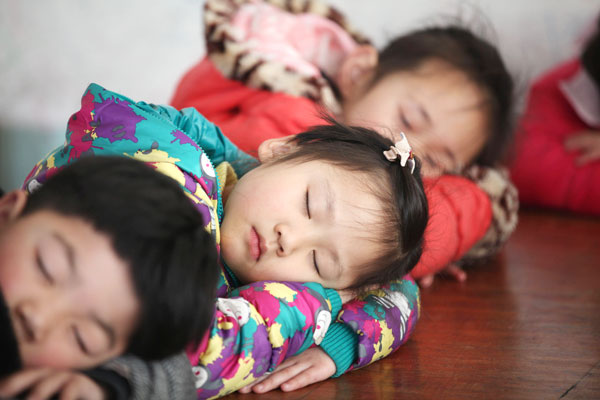 Children at a kindergarten in Bozhou, Anhui province, study the correct postures for sleep. Liu Qinli / Provided to China Daily
Research shows that 14 percent of Chinese people go to sleep after midnight. Some 43.2 percent of them play computer games immediately before sleeping, and 67.1 percent urban residents use cell-phones and computers before going to bed.
"I go to bed at 11 pm and play with my iPhone until 1 am and then get up at 7:30 am. I have been used to this lifestyle since my college days," said Liu Qijing, 26, a marketing assistant at a telecommunications company in Shenzhen, of Guangdong province.
"I know it is harmful to my health, and I feel the negative effects already, but it is very difficult to change these life habits."
Liu is one of the 70 percent of Chinese Internet users surveyed by the preventive medicine association who reported having sleep disorders.
Many conclusions can be drawn from the report by the doctors association based on comparisons among different places and groups of people.
"Our research results indicate people in the south and the west of China sleep better than their northern and eastern counterparts. Rural people sleep better than urban residents, male better than female, the single better than the married, and people with lower education backgrounds sleep better than those who are more educated," said Qin Xiaoming, vice-chairman of the association.
An example of this trend is Zhang Xianzhen, 91, a farmer in Wuhe county of Anhui province.
"I still live the life of a farmer. I work and do physical exercise every day now. I don't need so much sleep— from 10 pm to 4 am the next morning," Zhang said.
"I wash my feet with hot water before going to bed almost every night. I have done it for 30 years. It is very helpful. Sleep has never been a problem in my life, except during the Land Reform in early 1950s and the 'cultural revolution (1966-1976)' when I was criticized as a former land-owner before 1949. I did not expect I could have such a happy life now. What else can I ask for?"
His son, Zhang Wei, 49, a veteran investment bank manager working in Nanjing of Jiangsu province, has a different view of sleep.
"Sleep is a terrible experience," the younger Zhang said.
"I have so many problems to solve each day. I force myself to lie in bed sometimes. But the more I do so, the more difficult it is for me to sleep. I always feel dizzy the next morning. I hope I can earn some money in several years and quit the job.