Making a living with fine-feathered friends
Villager strives to keep the dying art of cormorant-fishing alive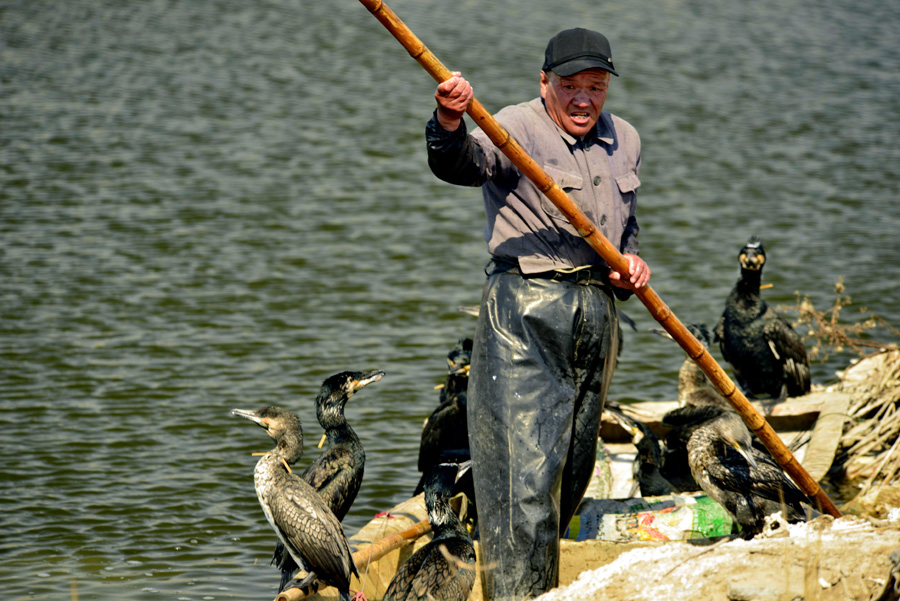 Song Shuzhi poles his fishing boat with his cormorants on Mata Lake, Huantai county in Shandong province.[Photo By Ju Chuanjiang / China Daily]
Accompanied by his 12 cormorants in a small boat, Song Shuzhi set out in the early morning light to fish in Mata Lake, Huantai county in East China's Shandong province.
On this occasion, the birds brought in nearly 25 kilograms of fish: a catch that Song described as "not bad".
"I can get more than 100 yuan ($14.50) from today's harvest," the 70-year-old said.
"They did a good job."
To reward his feathered friends, Song untied the cattail-fiber nooses from around their necks and allowed them to fly back out over the lake to catch their own breakfast.
"The noose prevents them from swallowing the fish they catch while they are working," he said.
About 20 minutes after setting them loose, Song called the cormorants back to his boat using a special vocal signal that he has developed, and then headed on home.
He sold the bigger fish from the day's catch, mostly carp, to restaurants and individual customers, while the rest were shared out among his neighbors.
Song lives in the village of Huagou on a tributary of Mata Lake. Three decades ago, almost every family in his village fished with cormorants, but now Song is the only one left.
"In the 1980s, there were more than 1,000 cormorants fishing in the lake," recalled the fourth-generation fisherman, who learned his trade at age 16.
"Our family has fished with cormorants for at least 100 years.
"But as the fish stocks decreased and young people left to work outside of our village, cormorant fishing started to disappear."
Song quit fishing for a few years during the 1990s because the river had become heavily polluted due to industrial development.
Since 2012, the local government has spent 430 million yuan restoring the ecology of Mata Lake and it has regained its vitality once more, with reeds and lotus flowers flourishing around its edges.
In total, 84 types of plant and 110 species of animal have been recorded in the lake's vicinity.
"The water is getting better and better," Song said.
Despite government efforts, however, some rogue fishermen still operate, utilizing illegal fishing methods such as administering electric shocks.
"Using electricity can result in a bigger catch, but it harms the ecology of the lake because it kills other wildlife," Song said.
"To protect the lake's ecology, some parts are off limits to fishermen. I only fish in the tributaries leading to the lake."
Cormorants can live for up to 25 years and the veteran fisherman thinks of his birds as his children. Each has its own name, from Huaying (motley bird) to Xiaohei (little black) and they are able to start fishing 100 days after birth.
Song also has three daughters, none of whom learned his trade, and six nephews who know how to fish with cormorants, but chose not to follow in their uncle's footsteps.
"It's hard to raise cormorants, and young people like jobs in cities where they can earn much more than they could by fishing," he said.
"I will fish with my cormorants for as long as I can, not only because it's a technique my ancestors handed down to me but also because it doesn't produce any pollution."