Students win English competitions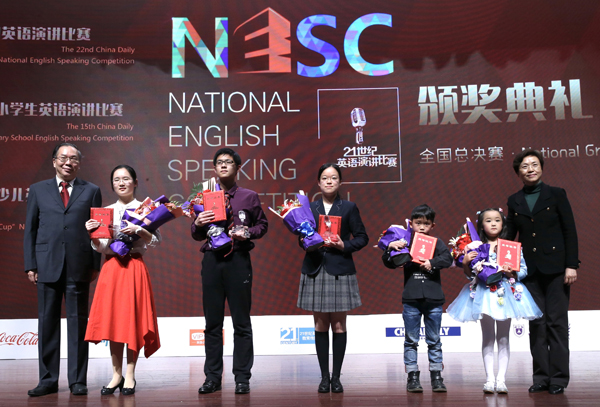 Wang Guoqing (left), CPPCC National Committee spokesman, and Wang Yanwen (right), head of the publicity department of the Jiangsu provincial Party committee, present awards. [Photo by Zou Hong/China Daily]
A 20-year-old Beijing college student and a 17-year-old from Zhejiang province won the 21st Century National English Speaking competitions on Sunday.
The contests, co-sponsored by China Daily, honor the elite young English public speakers from across the country. The event included the 22nd Coca-Cola Cup and the 15th New Oriental Cup competitions.
The competition attracted over 100,000 college students and 700,000 high school and primary students.
Chen Qiyu from Tsinghua University in Beijing emerged from 34 finalists to claim the title in the college category, while Chen Yixian from Hangzhou No 2 High School of Zhejiang province clinched the champion of the senior high category.
Gu Yunxiang, also 17, from Nanjing University and Chen Yixian won the China Daily 21st Century Most Promising Speaker awards. This May, they will travel to London and represent China at the annual International Public Speaking Competition run by the English-Speaking Union.
At Sunday's competition at Nanjing University, the speakers showcased English proficiency and presented thoughts on the world and China's presence on the global stage.
Wang Guoqing, spokesman for the Chinese People's Political Consultative Conference National Committee, said he was impressed.
"Their words are passionate yet calm, observant while insightful," Wang said.
Zhou Shuchun, editor-in-chief of China Daily, said the students reflect the current condition of China.
"Chinese youth bear a striking resemblance to China today - that is, vigorously growing, actively demonstrating themselves and confidently facing the world," he said at the awards ceremony.
Students also earned opportunities for education resources.
In China, many key universities are authorized to run their own admissions programs. About 30, including Beijing Normal University and Tongji University, recognize the winners at the 21st Century Cup competition when evaluating applicants.
In response to the high demand in early childhood English education, the organizer also launched the China Daily 21 Century VIPKid Cup National Kids English Competition this year, co-hosted by VIPKid, an online education startup.
VIPKid co-founder Chen Yuan said it boosts children's confidence and enthusiasm in English learning.
Zhou Chenggang, chief executive of New Oriental Education & Technology Group, emphasized the English language's role as "a gateway to civilizations of the whole world."
Such events, he said, help youngsters "deliver 'China's voice' to the rest of the world."