Delivery man juggles two jobs and studies to become English interpreter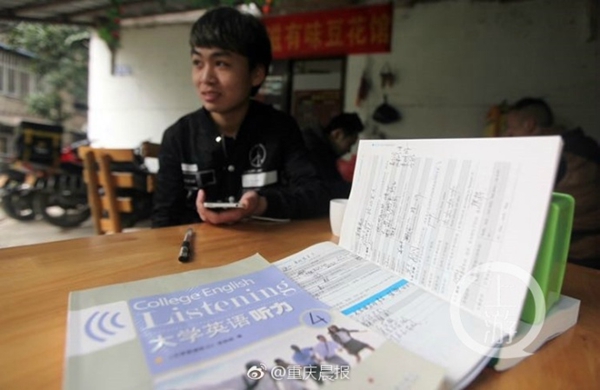 Mao Zhaomu shows his English books full of notes at a restaurant in Sichuan International Studies University in Chongqing, on Tuesday. [Photo from Sina Weibo]
A delivery man sent an English-language text message to his customer at a university in Chongqing when he failed to contact the latter. The message in English left students surprised, and the screenshot of the text went viral, according to Chongqing Morning Post.
Mao Zhaomu, 18, works in a restaurant at the Sichuan International Studies University and delivers takeout food on the campus. On Tuesday, he sent a text message to a student which said "Hello, your phone was powered off", and the latter posted it online.
"I just want to practice my English. I thought university students would know English," said Mao.
Mao became interested in English in middle school. But he decided to leave high school last year and began preparations to take the self-study examination to enter the Sichuan International Studies University this year.
Besides working during the day, he has also found a job in a bar at night to "talk with foreigners". During spare time, Mao chats online in English-language groups and has also found an American friend online.
"He teaches me English and I teach him Chinese," said Mao, showing his chat record with his foreign friend "Faith". He often writes compositions and asks Faith to polish them.
Every afternoon, after he finishes delivery at lunch time, Mao studies English books. The books are full of his notes.
Mao said he hopes he can go to a graduate school in Beijing after finishing undergraduate study, and eventually become an interpreter.