Social networks bad for sleep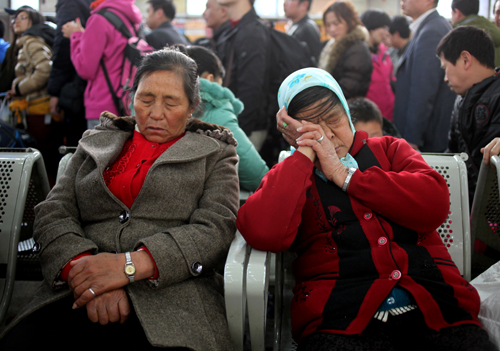 Passengers nap in a Beijing train station waiting room on Thursday, which was World Sleep Day. Wang Jing / China Daily
Online social networks, chatting services and gaming are keeping young people up at night and disturbing their sleeping patterns, according to the 2013 China Sleep Quality Index from the Chinese Medical Doctor Association.
The report, released to mark World Sleep Day, which fell on Thursday, was based on interviews with more than 107,000 respondents in 20 cities, 20 counties and 20 rural areas across China.
It said more than 67 percent of the respondents send text messages or chat online when they are preparing for sleep, which is the major reason for staying up.
About one-third said online games, videos, stories or news tempt them to stay awake.
Many of the respondents, especially young people, said using such social network activities in bed keeps them from sleeping until midnight.
Zhang Ying, a civil servant working in Wuxi, Jiangsu province, usually spends hours on games like Angry Birds or Call of Duty on her smartphone or computer before sleep. "For me, playing games is relaxing after coming back from a long day at work, especially lying in bed," said the 25-year-old.
"But I always have dreams at night, making me tired in the morning," she said, adding that she usually sleeps for seven hours.
"I want to sleep early but can't resist the temptation."
Zhang likes the good graphics and complex plots, which lure her into playing for one or two hours every night.
Related:
Sleep issues still ignored in China: report
A large percentage of the population in China has problems getting a good night's sleep, but people are not paying enough attention to the issue. More...
Another day begins with the shrill call of the phone's alarm. Where are you? Open your eyes. Turn the alarm off, a swig of water unglues your tongue and you start working out on your apps. More...