Chinese doctors help and learn in Africa
Xia Wei, assistant researcher with the national immunization program of the Chinese Center for Disease Control and Prevention, said his three-month stint as a World Health Organization volunteer in Africa has helped him in his work back home.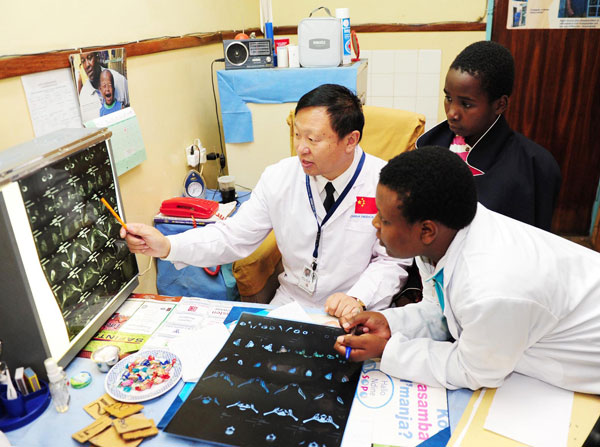 Chinese doctor Wang Liqun works at a hospital in Lilongwe, the capital of Malawi. More than 10 Chinese doctors live in the southeastern African country and provide medical service. [Ding Haotao/Xinhua]
In 2011, the center selected Xia to go to Namibia under a WHO program called Stop Transmission of Polio, or STOP, which aims to curb the disease, particularly in Africa. It was the first time Chinese public health specialists had joined a global program through application.
"They were quite interested in the China experience, particularly in building and operating a public-health system. Meanwhile, their working methods there helped with my job back in China, especially in underprivileged areas," he told China Daily.

His task there included assessing the country's polio surveillance system, designing vaccination programs, conducting on-site vaccinations, and training staff.
Polio became an epidemic in Namibia in 2006, he said.
"It was wonderful that what I have learned in China about polio intervention also worked well in Africa," he said.
Notably, Namibians' work methods, like making detailed plans before implementation, impressed him. Xia said such methods "should be also applied in China in remote and less-developed areas like the Xinjiang Uygur autonomous region and the Tibet autonomous region".
Luo Huiming, deputy director of the national immunization program, said 14 other Chinese specialists in addition to Xia have been sent to Africa so far under STOP.
"That's a significant step for China to begin joining global efforts for public health," he said.
Ren Minghui, who heads the international cooperation department of the National Health and Family Planning Commission, said this model emerged as a new trend in China's health diplomacy.
Previously, international medical aid programs by the Chinese government focused more on the clinical side, Xia said.
During the past 50 years, China has sent more than 17,000 medical workers to 48 countries in Africa, treating nearly 200 million people on the continent, statistics from the commission showed.
By 2012, China had built more than 30 hospitals and 30 anti-malaria centers in Africa.
Zou Xiaoming, the economic and commercial counselor of the Chinese embassy to Uganda, said Chinese methods of delivering aid have special advantages, particularly a shorter execution time and high implementation efficiency.
"The Western way may lead to a lower execution efficiency and undesirable value for money conditions. The Chinese methods of executing grants have some advantage in the current situation," he said.
It definitely targets the need of grant-recipient countries as the two sides jointly decide which projects will be provided through grant channels, he said.
Okello Oryem, Uganda's minister of foreign affairs, agreed, adding that aid from China has been increasingly preferable as it indeed followed real needs of recipient countries without imposing stringent conditions.
"The aid we ask from China rightly related to our wishes and intentions while some from the West are predetermined without consulting us," he said.
In addition, in the field of medical assistance, China might be the only country that sends medical workers paid by the government to work in Africa for extended periods.
Other medical teams working in Africa are usually sponsored by charities rather than governments.
Unlike the West, which gives African countries expensive medical equipment, China provides low-cost and yet effective equipment, according to Dr Michael Osinde, the Jinja, Uganda, hospital director.
shanjuan@chinadaily.com.cn