Dubai to use Chinese-made passenger drone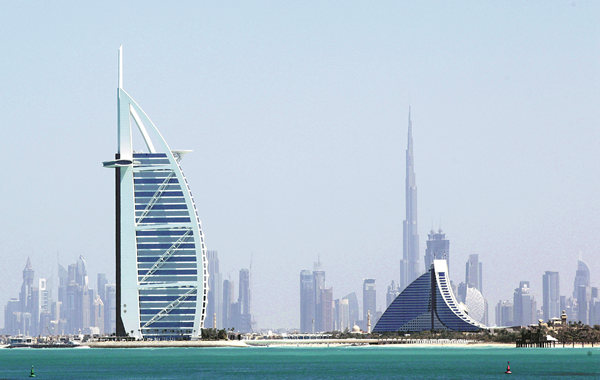 The futuristic cityscape of Dubai soon is expected to see Chinese drones capable of carrying people. The Burj Al Arab (left) is seen in this 2012 photo. Amodel of the Ehang 184 drone (inset), designed to carry a passenger, is displayed at theWorld Government Summit 2017 in Dubai's Madinat Jumeirah on February 13. REUTERS AND AFP PHOTOS
Drones are no longer just for carrying cameras or missiles.
Chinese pilotless craft capable of carrying a passenger are expected to be put into use as early as this summer in Dubai, the largest city in the United Arab Emirates, according to Guangzhou-based drone manufacturer Ehang Inc.
The company has announced a partnership with Dubai's government to use its Ehang 184 passenger-carrying drone in the city's smart transportation system.
Dubai's Roads and Transportation Authority said the Chinese passenger drone will begin "regular operations" around the futuristic city in July, according to a Xinhua report. Dubai officials said they have made their first test flight of the drone.
The details on how the drone may be used were not released because the agreement between Ehang and the Dubai government was confidential. However, the company says it expects eventual large-scale commercial applications of the drone.
The Ehang 184, the first drone of its kind in China, is undergoing flight tests, with the expectation of its use in such areas as urban transportation, tourism, logistics, emergency medical treatment and disaster relief, the company said.
"The passenger-carrying drone, which is equipped with very advanced technology, is a new area and will boost technological innovation and development for the whole industry," said Pan Xuefei, a senior analyst at the IDC market research firm.
But because of the high safety and reliability standards that must be met, the passenger drone will still be subject to strict trials before large-scale commercial operations can start, Pan said.
Winning wide acceptance from the market is still a challenge because of safety concerns, and laws and regulations may have to be updated to address and safeguard the booming industry, he added.
The electric-powered passenger drone made its debut at the Consumer Electronics Show in Las Vegas in the United States last year.
It can fly for up to 30 minutes at a maximum cruising speed of 160 km/h, and has an average cruise speed of 100 km/h. Once the destination is entered, the automatic flight control system chooses the fastest, safest route.
The market for China's civil drone industry is expected to reach 11.1 billion yuan ($1.6 billion) in 2018, according to a report by Beijing-based consultancy Analysys.
Xu Jingxi contributed to this story.