Beijingers call for Clean Air Act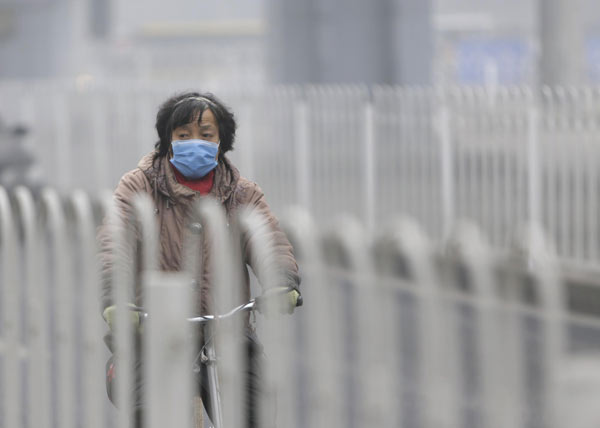 A woman wearing a mask cycles on a heavy haze day in Beijing January 29, 2013.[Photo/Agencies] 
BEIJING - The fourth round of heavy smog to hit Beijing in four weeks has sent more people to the hospital with respiratory illnesses and prompted calls for legislation to curb pollution.
Pan Shiyi, a celebrity real estate developer and prolific microblogger with 14 million followers, on Tuesday said he is planning to propose a Clean Air Act to the local legislature and government.
Pan, a deputy to the Beijing Municipal People's Congress, started an online poll at 9:20 a.m. Tuesday, the results of which will be included in his report to the lawmaking body and the municipal government, he said.
Within three hours, more than 25,000 web users, or 99 percent of total respondents, welcomed his proposal on Sina Weibo, China's Twitter.
They have good reason to stand alongside Pan.
The latest round of murky haze, described by many native Beijingers as the "worst fog ever," began to choke the Chinese capital on Monday and worsened on Tuesday, reducing visibility to under 500 meters in many parts of the city proper.
"I'm standing outside my office building but am unable to see its top," wrote one office worker who posted a picture of her office building obscured by the putrid air in downtown Beijing in Sina Weibo.
The smog has also led to a surge in respiratory illnesses, particularly among children and the elderly.
A pediatric hospital in downtown Beijing has treated a record 9,000 children this month, mostly flu, pneumonia, tracheitis, bronchitis and asthma patients.
Anxious parents and doctors almost all blame the particulate matter in the smoggy air for the respiratory infections. Though most schoolchildren are home for the winter holidays, the bad air can easily move indoors.
Ordinary medical masks fail to provide adequate protection, so some pedestrians have taken to donning gas masks and respirators.
The causes of the scary smog are rather mysterious, though experts continue to cite excessive emissions and the mountains around Beijing that trap pollution in winter, unless there is ample wind to clear it away.
Some critics have pointed fingers at China's top two oil firms, China National Petroleum Corp and China Petrochemical Corporation, saying the companies' outdated production technologies yield large quantities of substandard, high-polluting gas fuel that contains five times as much sulphur as gas products in the United States.
"The smoggy weather has sounded an alarm to oil companies," said Yue Xin, a specialist on fuel and emissions studies with the Chinese Research Academy of Environmental Sciences. "It's high time to improve fuel quality in order to cut emissions."
Meanwhile, concerned Beijingers have moved their brainstorming sessions to cyberspace. If Pan's proposal for a Clean Air Act is adopted, netizens say the new law should include clauses providing for "car-free days" in times of smog, higher standards for vehicle fuel, stricter restrictions on industrial and exhaust gas emissions, and more effective protection for the public.
Schools and kindergartens should close on smoggy days, one male Sina Weibo user suggested.
Adequate protection should also be given to those who work outdoors, like traffic police, the user noted.
"None of the police officers I saw on the street were wearing a mask," he wrote. "They said they were not allowed."
Moreover, the Weibo user said residents should be allowed to stay home on smoggy days, even if they will have to make up for the missed work hours on weekends.
"The Clean Air Act should start with a car ban," said Wang Lifen, a former CCTV reporter and prolific microblogger. "Everyone -- senior officials and VIPS included -- should take buses and subways instead of private cars."
Wang said she walks to her office every day and would be happy to travel around the city by bus or bike.
Five days of thick fog caused thousands of deaths from bronchitis, asthma and pneumonia in Britain in December 1952, prompting the government to pass the first Clean Air Act in 1956, which introduced smokeless zones and cleaner fuels to reduce pollution.