Northwest University introduces tree-climbing course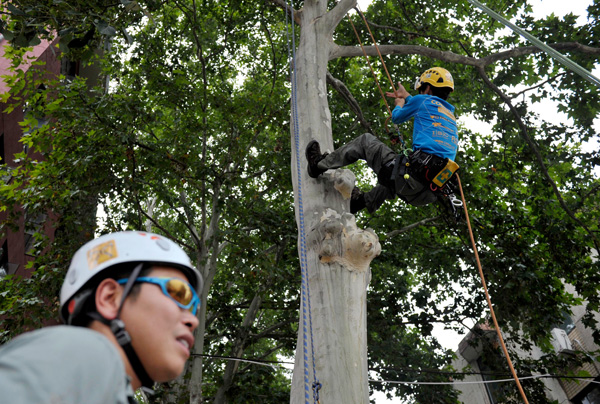 Instructor Chen Chao shows students how to climb a tree at Northwest University in Xi'an. [Photo by Zhao Bin / For China Daily]
A tree-climbing course was opened this school term at Northwest University in Xi'an, capital of Northwest China's Shaanxi province, to teach students skills that might be helpful in a disaster or emergency situation.
According to the provincial education department's official account at China's micro blogging site Sina Weibo, the university opened the new course to graduate students to not only give them an opportunity to observe a range of ecosystems, but also to promote the development of canopy research.
Chen Chao, one of two teachers of the course, who is also a member of the International Arboriculture Association and a registered tree-climbing master, said that the course recruited 13 female students and 11 males.
"The girls showed more interest in the training," Chen said.
The other teacher, Liu Ge, who is an outdoor sports instructor and rock-climbing instructor for the China Mountaineering Association, showed his tree-climbing skills, scaling an 8-meter-tall tree in just six seconds.
Liu Meizhou, a female student, said that she enjoys outdoor activities and often goes mountain climbing with her friends, but she "wanted to learn some new skills from the tree-climbing course".
Another student, Ren Yingkun, said he thinks more students will want to take the course next semester.
The university is the second institution in China to open a tree-climbing course after Xiamen University in East China's Fujian province opened a similar course in 2012.
Xiamen University said it opened the course to teach students special skills to help them escape from disasters, following the example set by some universities in the United States.
"We do not let the students climb trees without using appropriate equipment to ensure their safety," said Lin Jianhua, of the Physical Education Department at Xiamen University.
According to Chen, who was recommended to Northwest University by Xiamen University, the appropriate equipment to ensure tree climbers' safety includes ropes, safety belts, helmets and cable fasteners.
"We also make sure there are no obvious dangers around the trees, such as transmission towers, hornet's nests and dead branches," Chen said.
Northwest University's tree-climbing course is scheduled to have 16 classes this school term, teaching students about equipment use, field survival, climbing and descending, rope techniques, directional technology and first-aid skills.
Guan Wei, deputy director of the university's sports education department, said that the course would be expanded to include more students in the future.