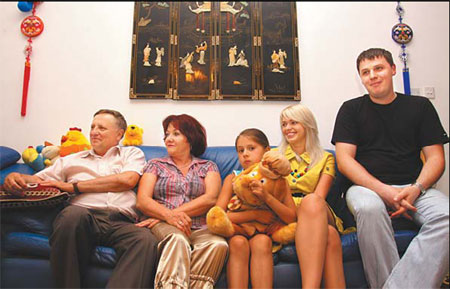 Russian expert Oleksandr Selikhov (left) and his family now find Lianyungang a home away from home. Jiang Dong

LIANYUNGANG, Jiangsu: When the authorities began building a nuclear power plant in Tianwan village of Lianyungang, Jiangsu province, a decade ago, all 48 families in the settlement moved out as their homes were leveled.
But a new community has since moved in.
Its residents are part of the more than 1,000 Russian professionals, engineers and technicians who helped build the Tianwan nuclear plant, reportedly one of the largest economic and technological projects between China and Russia with a total investment of $4.07 billion.
Oleksandr Selikhov was among the first group of Russian professionals who arrived in Lianyungang in 1999 to help build the nuclear units. He was sent to China as the site representative of the Russian company Atomstroyexport, which is the general contractor and supplier of the Tianwan project.
"Our main job here is to install the equipment, conduct test runs and supervise the operation," Selikhov told China Daily earlier this week.
"We've finished most of our work."
Two Russian AES-91 type pressurized water reactor nuclear power units, each with a capacity of 1,060 megawatts, were built in Phase I of the project.
Work was completed in 2007 and the two units were put into commercial operation in the same year.
The operation of the plant has been handed over to the Chinese side and most Russian specialists have left the site, with only 70 to 80 of them still staying in China for equipment maintenance and repair services.
Special coverage:


SCO&BRIC Summits
Related readings:


 Hu urges more co-op among SCO members


 SCO leaders sign Yekaterinburg Declaration


 SCO summit begins in Yekaterinburg


 China offers $10 billion loan to SCO


 SCO leaders kick off summit in Yekaterinburg
Equipped with Russian technology, the Tianwan nuclear power plant is being touted as China's key nuclear base. The project is also considered significant for Russia because it was the first foreign nuclear base Russia helped build and put into commercial operation after the Chernobyl tragedy in 1986.
"This is a project that we devoted a lot time and energy to. We built the power plant like our own power plant and our engineers worked very well with their Chinese colleagues," Selikhov said.
Selikhov has been living with his wife, son and daughter-in-law in the residential area for professionals like himself in Lianyungang since he arrived in China a decade ago. His granddaughter was born in the city in 2002 and she is said to be the first Russian baby born there. Selikhov said his 7-year-old granddaughter now loves learning taekwondo at school with her Chinese peers and her favorite Chinese dish is sweet and sour pork.
On weekends, the Selikhov family often goes fishing at nearby lakes. Selikhov's wife Alla is a fan of taichi and he said she practices the art every morning with other Russians in the village gym.
"I never thought I could stay here for 10 years," said Selikhov, who is going to celebrate his 60th birthday in October. "I will probably continue to work for two more years in China if a new contract is signed between China and Russia on the Tianwan project. We are definitely happy to see further cooperation between the two countries."
China and Russia are now negotiating the construction of two more nuclear reactors. The whole Tianwan project will include eight nuclear units with a combined installed capacity of more than 8,000 megawatts.
But from time to time, Selikhov does miss the life back in Russia and his "little garden in the yard". He said he will return home when his work in China is done.
For a number of other Russians working at the nuclear plant, life in China is becoming a permanent affair that will not end with the nuclear project.
Sergey Minakov married his Chinese wife in 2003, a year after he came to China for the Tianwan project.
"Living in China with my wife and daughter is now the best choice for me. I enjoy the life here very much," said Minakov, who has bought an apartment and a store worth more than $170,600 to sell healthcare products in the city.
"The house is for my retirement in China and the store is for my wife to do some business in the future," he said.