MOSCOW -- Chinese President Hu Jintao arrived in Moscow Tuesday night for a state visit aimed at enhancing the Sino-Russian strategic partnership of cooperation.
The Chinese president flew into the Russian capital from Yekaterinburg, where he attended a summit of the Shanghai Cooperation Organization and a meeting of BRIC countries, namely Brazil, Russia, India and China.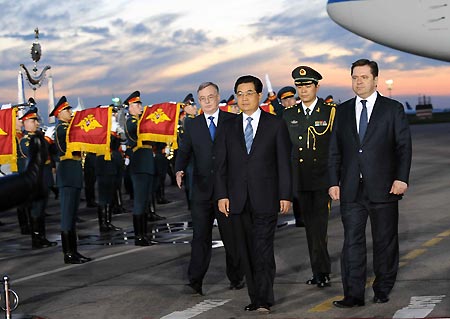 Chinese President Hu Jintao arrives in Russian capital Moscow on June 16, 2009. President Hu Jintao was welcomed by Russian Energy Minister Sergei Shmatko (1st R) after he arrived in Moscow Tuesday for a state visit.  [Xinhua] 
In a written statement delivered upon arrival at the airport, Hu said the current international situation is undergoing complicated and profound changes and the international financial crisis is still spreading.
Related readings:


 Hu urges more co-op among SCO members


 Hu attends SCO summit in Yekaterinburg


 Hu meets with Indian prime minister


 China offers aid to Pakistan, Hu meets C. Asian leaders


 President Hu meets president of Kyrgyzstan
"It is of great significance for the two countries to strengthen cooperation and jointly combat the current difficulties to maintain the sound and steady development," said Hu.
He said the Chinese side will work with Russia to comprehensively promote bilateral strategic cooperation, expand substantial cooperation and cultural exchanges, and continuously consolidate the basis of bilateral ties so as to make greater contributions to the well-being of the two peoples and people all over the world.
He said he hoped that this visit will help enhance mutual understanding and trust, push forward the Sino-Russian strategic partnership of cooperation from a new historical starting point.
This is President Hu's first state visit to Russia since Russian President Dmitry Medvedev took office in May last year.
Chinese foreign ministry officials said that during the visit, Hu will meet his Russian counterpart Medvedev and other Russian leaders to exchange views on how to further develop the Sino-Russian strategic partnership of cooperation.
In Moscow, President Hu is also expected to attend the event marking the 60th anniversary of the establishment of diplomatic relations between China and Russia.
In recent years, the China-Russia ties have maintained a momentum of rapid and sound development with frequent high-level exchanges, greater mutual political trust and firm support to each other in terms of their core interests.
The two-way trade volume reached a record high of US$56.83 billion last year. The two sides signed an oil cooperation agreement in April this year.
The two sides will issue a joint statement and sign a series of cooperation documents during the visit, a Chinese foreign ministry official said.
"I believe, with the joint efforts of the two countries, President Hu's visit to Russia will help further the long-term, sound and stable development of China-Russia strategic partnership of cooperation under the new circumstances," said Chinese Vice Foreign Minister Li Hui last week.
From Moscow, Hu will travel to Slovakia and Croatia for state visits.